If you want to make your online store GDPR compliant, then you have to check out these Shopify apps. These Shopify plugins make it easy for you add an EU cookie policy banner to your online store, letting your customers know you use cookies on your ecommerce website, and they come with useful features like responsive layouts, customization options, and support for multiple languages.
Free GDPR + EU Cookie Bar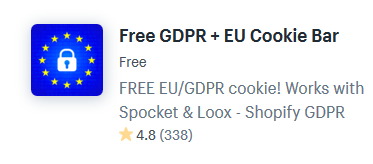 This free Shopify plugin makes it easy for you to add an EU cookie policy banner to your online store, and it has a responsive design, making it compatible with tablets and smartphones. Free GDPR + EU Cookie Bar has a customizable design, so you can change the appearance of the banner to fit with your store's existing branding, and you can include a link to your company's privacy policy.
FREE > GDPR Cookie Bar ‑ Kooke
Kooke adds a simple bar to your ecommerce website to tell visitors about your company's cookie policy, and it won't disappear until they click a button to accept the terms of your policy. This Shopify app also allows you to add a link to your business's cookie policy page, it installs with a single click, and it comes with customization options you can use to change the banner's colors, text, and size.
EU GDPR Cookies Notification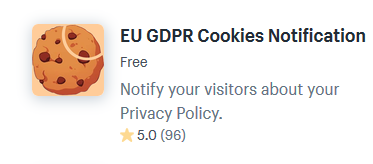 This Shopify plugin will automatically notify visitors to your online store that you use cookies, and once they agree to your company's terms, they won't be shown the notification again for 60 days. EU GDPR Cookies Notification allows you to choose the location of where the notification appears on your website, it has a responsive design, making it compatible with mobile devices, and it enables you to choose if the notification will be shown to everyone who visits your website or just people who are in specific countries.
GDPR/CCPA + Cookie Management
GDPR/CCPA + Cookie Management adds a cookie consent bar to your store's website, and it will even generator a GDPR/CCPA request page for your online store. Plus, this Shopify plugin automatically tracks policy acceptances and will display them in an admin panel for you to review. This Shopify plugin also comes with a responsive design, so it's compatible with smartphones and tables, and it's available in multiple languages, including English, French, German, Italian, Finnish, Romanian, Slovenia, and Bulgarian.
GDPR Data Compliance Banner EU
GDPR Data Compliance Banner EU will display a banner on your ecommerce website notifying your store's visitors of your company's cookie policy, as well as a bar with a link to your privacy policy, This Shopify plugin also allows your customers to request the data you store about them, and it even enables them to have this data removed with the click of a button. Also, this Shopify app offers support for English, French, and German, and it detects the IP addresses of visitors to your website and will only display your cookie policy to people who are within the European Union.
EU Cookie Bar ‑ Cookie GDPR
This Shopify plugin will add a banner to your store's site informing customers that you use cookies, and it will automatically hide this banner after they click a button to accept your terms. Plus, EU Cookie Bar – Cookie GDPR is incredibly easy to install, it has a responsive design, so it's compatible with mobile devices like smartphones and tablets, and you can customize the appearance of the banner to match your business's brand.
GDPR Cookie Notice Bar + CCPA
This Shopify app will display a cookie notice bar on your website, but only when the visitor is viewing your online store from a country within the European Union. GDPR Cookie Notice Bar + CCPA has a responsive design, making the bar compatible with mobile devices, it installs with one click, and it includes a number of customization options, so you change the notification bar's colors, fonts, message, position, and popup behavior.
Europe Cookie Notice
This EU Cookie Policy Shopify app makes it simple for you to add a notice to your website to tell your visitors that you use cookies on your site, and its lightweight design won't slow down your online store.  Europe Cookie Notice is compatible with every Shopify theme, it offers easy message and color customization, and you can even employ geolocation to guarantee the notice is only displayed to people who access your store from European countries.