Shopify is the king of hosted ecommerce solutions and there are plenty of premium themes, but what about free themes? I have been through them all and compiled a list of the top beautiful free Shopify themes. No matter if you're selling cellphone accessories or high-end fashion, there's something for you in this list.
Solo by Shopify
Ideal for stores with small- to medium-sized inventories, Solo is designed to let your store look great no matter what type of business you run. Features include a rearrangeable homepage, the ability to showcase a single product front and center, a responsive design and all our other standard features.
(opens in a new tab)
Classic by Shopify
Ideal for stores with large inventories, Classic is designed with the traditional ecommerce merchant in mind. The theme features a large sidebar that can be used to feature multiple levels of navigation and custom content like ads or promotions. Classic also includes a responsive design, a rearrangeable homepage and 3 modern styles to start with.
(opens in a new tab)
Supply by Shopify
Ideal for stores with large inventories, Supply is designed to make it quick & easy to browse through all the categories and products your store has to offer. Features include prominent navigation, multiple homepage collections, sidebar filtering, and easy integration with the Product Reviews app.
(opens in a new tab)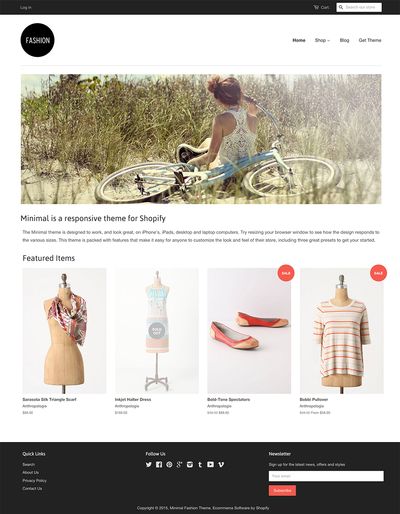 Stand out from your competitors with this sleek, trendy theme from Shopify. Minimal Fashion is a responsive theme specifically designed to adapt its display according to the device in use. It's packed with great features you can customize according to your brand including the background layout, typography, product and collection views, navigation, colour schemes and images.
(opens in a new tab)
Lookbook by Shopify
Featuring full-screen imagery, this simple responsive theme will make your product photography stand out. Supports customer accounts, drop-downs and has a fantastic slide-out cart. Best for shops with high-resolution photography.
(opens in a new tab)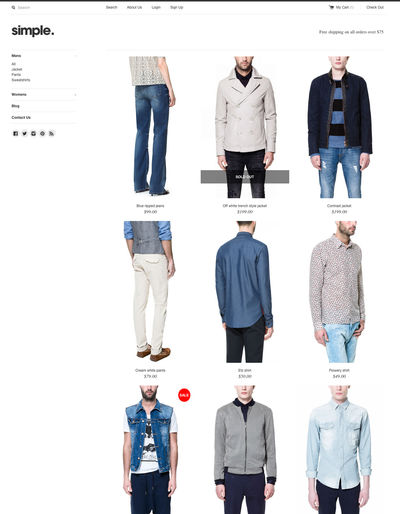 Simple is a free ecommerce template officially supported by Shopify. It works as well on mobile devices as it does on large monitors. It features sleek animations, easy to customize settings, and sub categories that appear if your products have tags.
(opens in a new tab)
New Standard by Shopify
Ideal for selling any type of product, New Standard is a responsive theme with a clean and minimalist design. New Standard now comes with all our standard features including mobile-optimized responsive layouts, a slideshow, featured collections, products, and more. For more info, see http://bit.ly/1BuKeje.
(opens in a new tab)
)