Researchers have found 80% of shoppers surveyed are more likely to buy something from a brand that offers a personalized experience, and 90% of consumers prefer shopping from stores that give them relevant recommendations and offers. Also, while it may seem as though people are becoming more concerned about their online privacy, a study discovered 83% of customers are willing to share their data with a brand if they get a more personalized experience in return.
Consequently, it should come as no surprise that 65% of major cosmetics brands offer interactive quizzes to help their customers find the products that are right for them and their unique needs and preferences. Regardless of what you sell via your online store, a product recommendation quiz may be able to boost your sales while providing a better, more personal shopping experience for your clientele.
If you use Shopify to manage your online store, there are several apps you can use to add product recommendation quizzes to your online store, including a few of our favorites that we've featured below. If you're not already using Shopify, they're offering a free trial, so you can give it a try without having to make a long commitment.
RevenueHunt Shop Quiz: Product Recommender
RevenueHunt not only allows you to create quizzes you can use to recommend products to your customers, but it also gives you the ability to send their responses to your company's CRM or mailing list, making it possible for you to segment your clients in order to send them highly-targeted marketing messages. Plus, this Shopify app supports conditional logic, it has a responsive design, so it's compatible with tablets and smartphones, and it features a detailed analytics dashboard you can use to monitor how quizzes affect your online store's revenue and conversion rates.
Presidio: Quiz Kit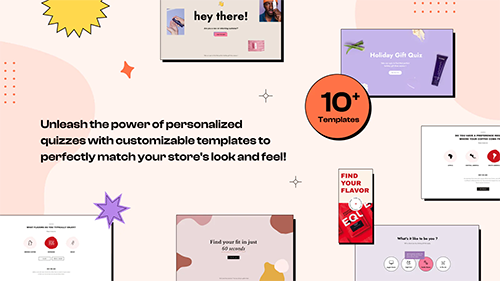 This Shopify plugin offers an easy way to create dynamic and visually-appealing quizzes that will help your customers find the right products for them, and it comes with more than 20 professionally designed templates for you to choose from. Presidio also includes detailed reports and analytics, support for A/B testing, compatibility with Omnisend, Klaviyo, MailChimp, Facebook Pixel, ReCharge, and Google Analytics, multiple logic options, and a mobile-friendly design.
Fit Quiz: Size recommendation
If you've been searching for a tool to help you recommend the right sizes for your store's shoppers, then you have to try Fit Quiz. This Shopify app lets you create a quiz that will ask people questions in an effort to help them find the perfect fit, and it's optimized for mobile devices, so your customers can take the quiz using their phones and tablets. Plus, Fit Quiz avoids asking for potentially sensitive information, such as a customer's weight or measurements (except for their height), they don't have to scan their bodies, and the quiz should take the average person 20 seconds or less to complete.
Visual Quiz Builder
With Visual Quiz Builder, you can easily create product recommendation quizzes that you can display on your ecommerce website, in emails, and on social media, and it comes with support for multiple languages, including English, Spanish, Japanese, Portuguese, Dutch, French, German, and Arabic. This Shopify app also gives you the ability to embed quizzes in your online store's pages, display them in popups, or have them appear in fullscreen format. Plus, Visual Quiz Builder supports branching logic, it comes with a user-friendly customizer, it includes a library of quizzes to help inspire you, and it features an analytics dashboard filled with stats to help you gauge the efficacy of your quizzes.
Quizell Recommendation Quiz
This Shopify app lets you use a drag and drop elements to create mobile-friendly quizzes to recommend items to your online store's shoppers, and it keeps track of every answer to help you gain valuable insights into your customers. Plus, Quizzel offers multi-language support, it comes with lots of templates, and it gives you the ability to display quizzes as full pages or in pages, popups, greet bars, and floating buttons. This product recommendation quiz Shopify plugin also includes support for jump logic, it has built-in analytics to help you track answer statistics, impressions, and conversions, and it's compatible with Judge.me, Klaviyo, Mailchimp, HubSpot, ActiveCampaign, and Omnisend.