If you want to create an online store using Shopify but you don't have a lot of money, then you're probably wondering if you'll be able to build an ecommerce website. Thankfully, Shopify has multiple plans for you to choose from, including the Basic plan that starts at just $29 a month. Also, there are a lot of affordable templates you can use to help you build your Shopify site, including several that are completely free! We've chosen our favorites to share with you, and they all include great features like drag and drop page builders, SEO optimization, free stock photos, and responsive layouts. Plus, there's a free Shopify theme for practically every industry, including fashion, home decor, food, sporting goods, art, and skincare.
The best part is that Shopify offers a free trial, which means you don't have to pay anything to find out if it's the right ecommerce application for your business. While there are lots of different platforms you can use to make and manage an ecommerce site, Shopify is extremely popular in part because it comes with so many awesome features. Not only can Shopify be used to sell products via the internet, but it also allows you to sell your items at physical locations, such as brick-and-mortar stores, festivals, fairs, and popup shops.
Shopify also comes with a robust dashboard you can use to manage orders, inventory, payments, staff, refunds, and returns, create shipping labels, print packing slips, and review live analytics related to sales, traffic, reach, orders, and revenue.
Taste
Taste is the perfect free Shopify theme for selling drinks online, and it comes with a sticky header, a mega menu, quick view, product sections with support for specialty product highlights, bespoke FAQs, and larger product cards, a drag and drop website builder, OS 2.0 functionality, editorial section, quick setup, visual storytelling, blogs, promo banners, image galleries, cross-selling support, press coverage, sections for ingredients and shipping, delivery, and nutritional information, image rollover effects, enhanced search, an unlimited free trial, and more.
Colorblock
Colorblock is ideal for online clothing and fashion shops, and it features advanced filtering capabilities, a minimal design, a sticky header, expanded menu navigation, support for large catalogs, customizable blocks, advanced customization options, a drag and drop site builder with blocks for quotes, videos, images, and products, quick setup, support for in-store pickups, a quick buy feature, a customizable contact form, an FAQ page template, banners, lookbooks, image zoom, galleries, support for highlighting recommended products, and more.
Sense
If you need to create an online store to sell skincare, makeup accessories, nail polish, hair care products, and cosmetics, then you have to see this free Shopify template. Sense has a fresh and bright design, sections for videos, comprehensive product descriptions, and testimonials, flexible design and customization settings, cross-selling support, free high resolution photos, a slideshow, sections for usage, ingredient, shipping, and delivery info, free theme updates, and more.
Crave
This free responsive Shopify theme is made for selling food online, and it includes mobile-optimized layouts, dynamic checkout options, a vibrant and playful design, drag and drop blocks and sections for creating custom pages, in-store pickup support, product options, a slideshow, product sorting and filtering, and more.
Craft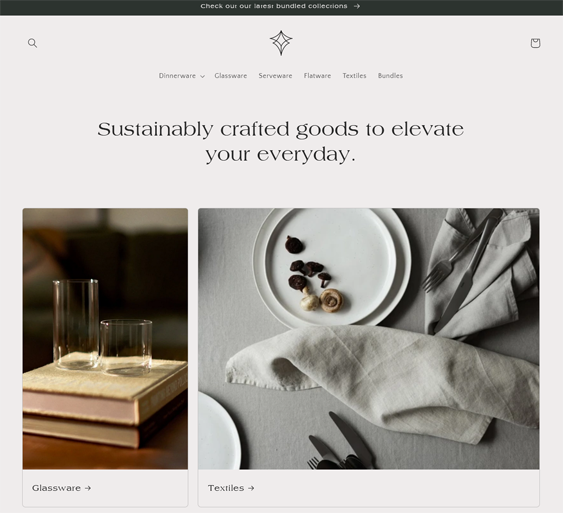 Craft is the ideal free Shopify template for ecommerce websites dedicated to selling sustainability crafter goods like textiles, glassware, serve ware, dinnerware, and flatware, and it offers a minimalist design, elegant typography, generous spacing, support for visual brand storytelling, blogs, promotional banners, image rollover effects, free stock photos, a mega menu, a responsive layout, and more.
Dawn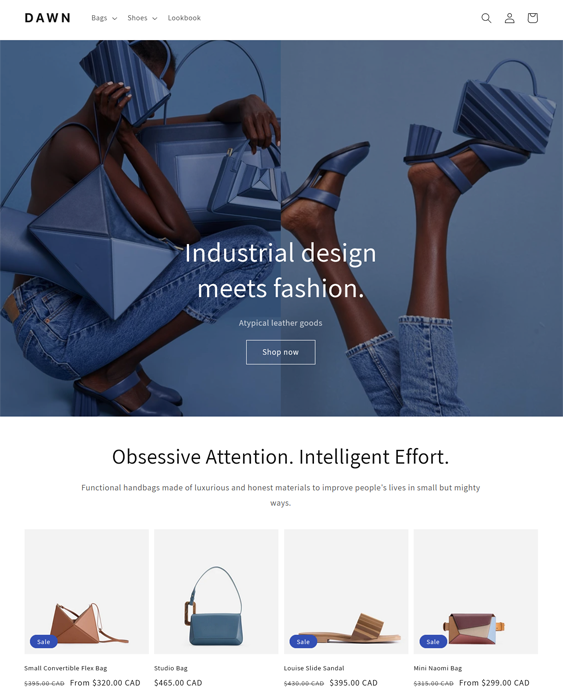 If you want to create an online shop to sell shoes and handbags, you need to see this free minimalist Shopify template. Dawn comes with simplified fonts, large imagery, flexible customization and design settings, media-forward product pages, press coverage, cart notes, photo galleries, image rollover effects, size charts, an unlimited free trial, and more.
Studio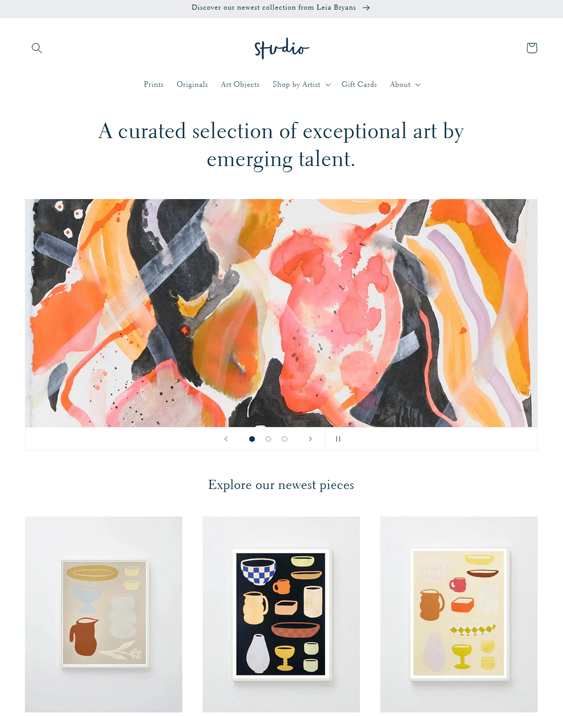 Studio is made for selling art online, so it's a great option for artists and galleries, and it includes collection-based navigation, featured collections, creator filters, stylish typography, colorful accents, OS 2.0 functionality, optimization for longer-form text sections, video support, speed optimization, support for showcasing recommended products, and more.
Ride
This free Shopify theme has a dark design, and it's perfect for selling sporting goods, including surfboards. Plus, Ride has unique page templates, asymmetrical layouts for showcasing products and team members, a drag and drop store builder, editorial content, promotional banners, blogs, sections for usage, shipping, and delivery information, enhanced search, and more.
Refresh
If you want to create an ecommerce site to sell grooming products, cosmetics, and skincare for men, then Refresh is the free Shopify theme you've been searching for. Refresh includes a clean design, a sticky header, quick view, assertive headers, a minimalist color palette, adaptive sections for sharing testimonials, quality information, ingredients, and special certifications, a slide-out cart, support for product videos, and more.