A recent survey revealed people received an average of six gift cards during the 2023 holiday season, and close to 80% of respondents said they planned to spend more than the value of their gift cards at the retailers. In fact, the consumers surveyed claimed they were planning to spend an average of $75 more than the value of the gift cards, and 23% of them said at least one of the gift cards they received was for a brand they'd never tried before.
If you don't already allow people to buy gift cards for your online store, it's easy to see you're missing opportunities to boost your bottom line and connect with new customers. Fortunately, if you use Shopify to run your ecommerce site, there are several apps designed especially for the platform that you can use to make selling and managing gift cards a snap.
If you're not already a Shopify user, they're offering a free trial, which means you can try it out without having to make a long-term commitment.
Giftkart: Gift Card & Rewards
Giftkart offers an easy way to sell digital gift cards that you can customize with your business's branding, and also gives your customers the ability to personalize the gift cards with their own messages, including short videos. Plus, this Shopify app allows you to send gift cards in bulk, it comes with support for multiple languages, delivery scheduling, and a balance lookup feature, and it even includes a rewards program that gives your customers the ability to earn gift cards in exchange for their loyalty to your company.
Govalos: Gift Cards Loyalty Program
With Govalos, you can sell electronic gift cards via your online store that can be sent directly to recipients via email or text, and it comes with multiple gift card designs for you to choose from, but it also allows you to upload your own creations. This Shopify plugin lets your customers customize their cards with gift notes, choose the exact time they want their gift cards to be sent to the recipients, and check their gift cards' balances and expiration dates.
Gift Card Hero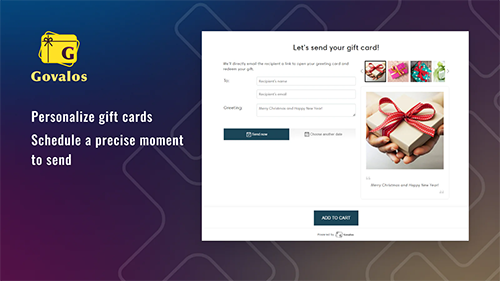 If you want to sell physical as well as digital gift cards for your online store, you have to check out Gift Card Hero. This Shopify app lets you sell both tangible and intangible gift cards, and it allows you to upload your own gift card designs, but it also comes with more than 20 different designs for your customers to choose from. Plus, Gift Card Hero lets gift card recipients check and even top up their balances, it will automatically email people to remind them about their unused balances, and it has a detailed analytics dashboard you can use to see redemption revenue, overall revenue, used and unused balances, and more.
Govalo | Gift Card Suite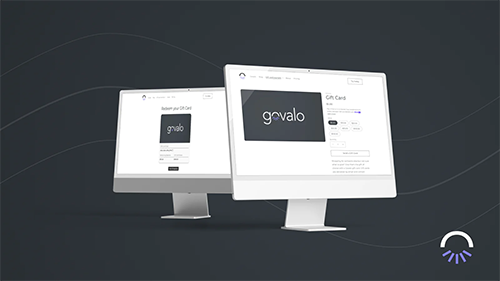 Not only can you sell digital gift cards with Govalo | Gift Card Suite, but you can also let people purchase giftable subscriptions and products, making it ideal for online store owners who are looking for more advanced options. This Shopify app also includes support for corporate gifting, and it has a detailed dashboard where you can view various analytics, including the number and value of issued gift cards, and export them as reports.
Gift Card Factory
If you're looking for a tool to help you create and manage digital gift cards for your online store, Gift Card Factory might be the solution you've been searching for. This Shopify app allows you to autogenerate thousands of gift certificates with only a few clicks, and it enables you to import gift cards from other platforms. Gift Card Factory also gives you the ability to bulk update your store's gift cards, making it ideal for when you need to disable or add notes to multiple cards, and it comes with a feature you can use to send unused gift card balance reminder emails.