According to a recent study, reviews can have a dramatic effect on consumers, especially when it comes to shopping only. Not only did 95% of people surveyed report reading customer feedback before purchasing something from an online store, but more than half of shoppers said they're willing to pay more for items that have positive reviews. In fact, the study discovered good reviews could lead people to spend an average of 31% more, which is excellent news for online retailers.
If you haven't already incorporated reviews into your online store, the benefits of doing so are apparent. Plus, product reviews and ratings have become so ubiquitous and essential for online shoppers that nearly 40% of people surveyed reported that they help build a brand or product's credibility, and 74% of consumers said they help build trust.
If you're having difficulty getting feedback from your customers, there are a number of tools that help you import existing reviews and automatically request reviews from people after they buy your products. For people who use Shopify, there are several review apps designed for this extremely popular ecommerce application, and we've selected a few of our favorites. If you haven't chosen an ecommerce platform for your store yet, or you're thinking of switching, Shopify offers a free trial, so you can try it out before making a long-term commitment.
Judge.me Product Reviews
If you've been searching for a tool to help you automatically solicit reviews from your online store's customers, you have to see Judge.me. This Shopify app will make it easy for you to create custom email templates with review requests that you can schedule to be sent to people after they purchase your products, and it even allows your customers to include photos and videos with their feedback. Plus, Judge.me offers a simple way for you to share reviews not only on your e-commerce website but also on your social media accounts, which can help drive traffic to your store and increase brand awareness.
Trustoo — TT Ali Reviews Product Reviews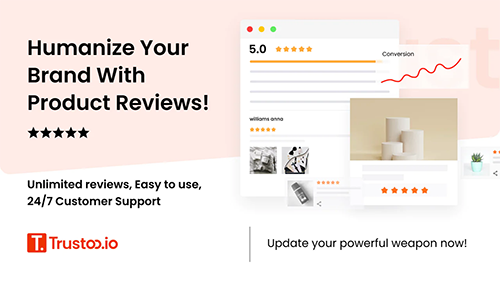 Trustoo not only collects reviews from your customers automatically via text and email messages, which you can display on your site using a variety of customizable widgets, but it offers multi-language support and automatically translates reviews into your desired language. This Shopify plugin also comes with built-social sharing, it allows people to include images and videos with their reviews, and it even gives you the ability to offer discounts to your customers if they include photos with their feedback. Lastly, Trustoo to allows you to import existing reviews from AliExpress, and it has a responsive design, so it's compatible with mobile devices like tablets and smartphones.
Rivo Product Reviews App & UGC
If you want to display your customers' feedback in a unique and visually-appealing way, you might want to try this Shopify app. Not only does Rivo Product Reviews App & UGC automatically send post-purchase emails to your customers with requests for reviews, it makes it easy for you to display these reviews — complete with images and star ratings — in a grid layout on your store's product pages. Plus, this Shopify app gives you the ability to offer discounts to people in exchange for reviews, customize the appearance of the widget and request form, automatically publish five-star reviews, and more.
Air Product Reviews App & UGC
Not only does Air Products Reviews App & UGC offer a simple way for you to send automated review requests to your customers, but it also gives you the ability to import existing reviews from other sites, such as your storefronts on online marketplaces. This Shopify app is responsive, so it's mobile-friendly, it lets you review, approve, preview, edit, and reject reviews, it allows people to include photos with their feedback, and it has an SEO-friendly structure.
Junip ‑ Product Reviews & UGC
After someone buys something from your ecommerce website, Juniper will automatically text or email them a review request which includes a customizable mobile-first form they can use to submit their feedback. This Shopify app also allows you to offer people incentives, such as promo codes, if they include videos or images with their reviews, and it will generate a QR code with a link to your review form that you can print out to include with your orders.