According to a recent report, SMS marketing is on the rise, with ecommerce brands sending 62% more text messages to customers in 2022 than they did in the previous year. The report also found that this increase in text marketing paid off for companies, resulting in a 23% increase in orders. Obviously, SMS marketing is an effective tool for businesses, and brands can use text messages to communicate a variety of information to their customers, such as order updates and details about special offers. Texts can also be used to reduce shopping cart abandonment and remind people to reorder items they might be running low on, which can dramatically affect sales and revenue.
While the effect SMS marketing can have on your business is apparent, creating and managing these campaigns can be time-consuming, and it's not always easy to know how effective they actually are. Fortunately, if you use Shopify, there are lots of apps you can use to build and run SMS marketing campaigns, and many of the come with detailed reports and analytics to help you gauge the efficacy of your efforts. We've chosen a few of our favorite SMS marketing apps for Shopify to share with you, and if you don't already use this incredibly popular ecommerce platform to manage your online store, they're currently offering a free trial.
Postscript SMS Marketing
If you're looking for a way to connect with customers, improve brand awareness, and boost your revenue, Postscript SMS Marketing might be able to help. This Shopify app makes it easy to create and manage text marketing campaigns, and not only does it allow you to automatically send SMS messages to shoppers based on events in their customer lifecycles, but it also gives you the ability to have conversations with them. Plus, Postscript SMS Marketing has a detailed analytics dashboard that will provide you with in-depth insights into your SMS campaigns and their effectiveness, including the amount of money they've helped your company earn.
Yotpo SMSBump: SMS Marketing & Email
Yotpo SMSBump offers a simple solution to help you create and run SMS campaigns, and it comes with a wide range of conversion-optimized templates for you to choose from. This Shopify plugin also includes support for A/B testing, which means you can try variations of your text campaigns to find out what appeals most to your client base. Yotpo SMSBump also t features a detailed analytics dashboard to help you monitor your return on investment, it comes with a built-in event calendar, it offers lots of advanced customization and segmentation features, and it includes support for two-way chat.
Automizely SMS Marketing
If you've been searching for a simple way to deal with lost revenue caused by shopping cart abandonment, this might just be the Shopify app you've been searching for! Automizely SMS Marketing will automatically send customized text messages to customers after they're abandoned their shopping carts, and the messages even include checkout links to make it super simple for them to complete their orders. Plus, this Shopify plugin is TCPA and GDPR-compliant, it allows you to choose the amount of time you want to wait before sending SMS messages, and it will automatically sync with your Shopify store.
Tobi. SMS Marketing Automation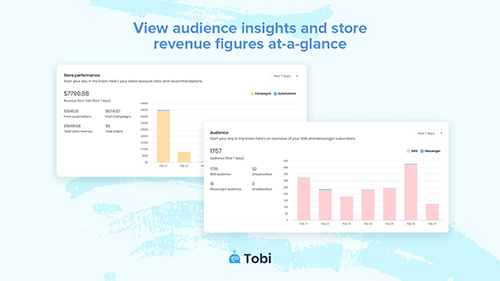 With Tobi, not only can you automatically send SMS messages to people in hopes of recovering abandoned shopping carts, but you can also text discount codes, birthday greetings, order status updates, and cross-selling promotions to your existing customers. Plus, this Shopify app comes with an extremely detailed analytics dashboard where you can review statistics and reports related to the text messages you've set, and it allows you to create lots of segments for your clients, which can help you send more targeted — and therefore effective — texts.
Recart: SMS (Mobile) Marketing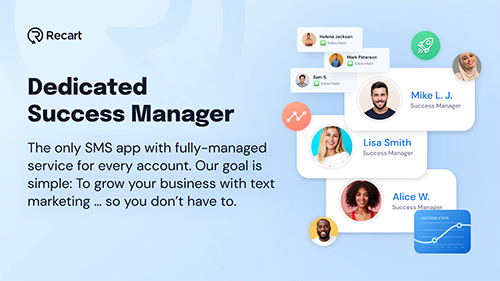 Recart: SMS (Mobile) Marketing comes with email message templates to help you automatically welcome new subscribers and customers, recover abandoned carts, update customers with transactional notifications, and drive reorders, as well as tell people about your company's latest offers and promotions. This Shopify app also includes custom website popups, real-time analytics, weekly reports, advanced segmentation, compliance with TCPA, CAN-SPAM, and CTIA guidelines, and even a dedicated success manager.