Over the last few years, more and more companies have started selling items like lighting, beds, mattresses, tables, and soft furnishings online, with some businesses forgoing brick and mortar stores entirely in favor of ecommerce websites. Thanks to affordable shipping and excellent return policies, consumers have become increasingly comfortable with buying items like furniture without ever seeing products in person, making the online homewares industry popular with both buyers and sellers.
If you want to sell items like furniture and homegoods online, one of the first decisions you'll need to make is which ecommerce platform you want to use to build and manage your online shop. There are several options for you to choose from, and Shopify is an ecommerce application that definitely deserves your consideration.
Shopify offers a user-friendly page builder, making it ideal for people who don't have a lot of technical knowledge, and it comes with dropshipping support, so it's perfect for business owners who don't want to deal with the hassle of buying and storing a large amount of inventory. It also includes social media integration, which means you can reach potential customers all over the world, and Shopify has loads of apps and themes for you to choose from, including templates designed especially for the furniture and home decor industry.
We've chosen a few of our favorite themes to share with you, and while they all come with different features, every one of them includes a drag and drop page builder, a responsive layout, free stock images, and speed optimization. Plus, Shopify offers a free trial, so you can make sure it's the right platform for you before you make a commitment!
Xtra — Minimal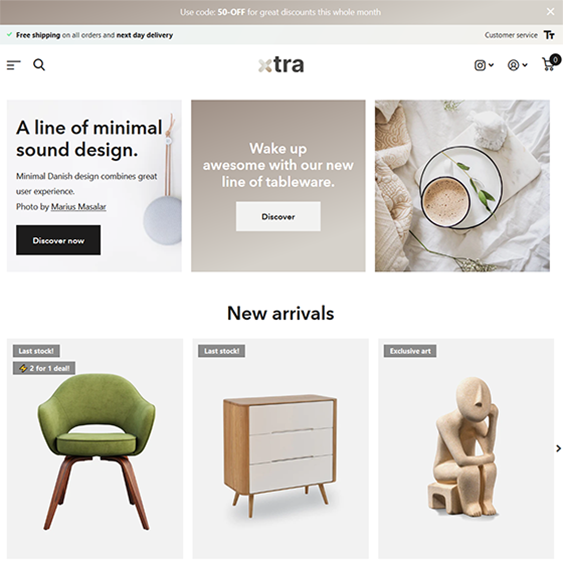 This minimalist Shopify theme makes it easy to sell homewares and furniture online, and it comes with support for drop shippers and high-volume stores. Xtra also includes quick setup, easy color customization, accessibility, performance, and conversion optimization, RTL language support, product filtering and sorting, support for sharing recommended products, a slide-out cart, an FAQ page template, in-store pickup support, a store location, image zoom, animations, collection page navigation, enhanced search, a slideshow, a mega menu, product tabs and options, sections for shipping and delivery information, free high-resolution photos, a sticky header, a non-expiring license for one store, and more.
Stiletto — Craft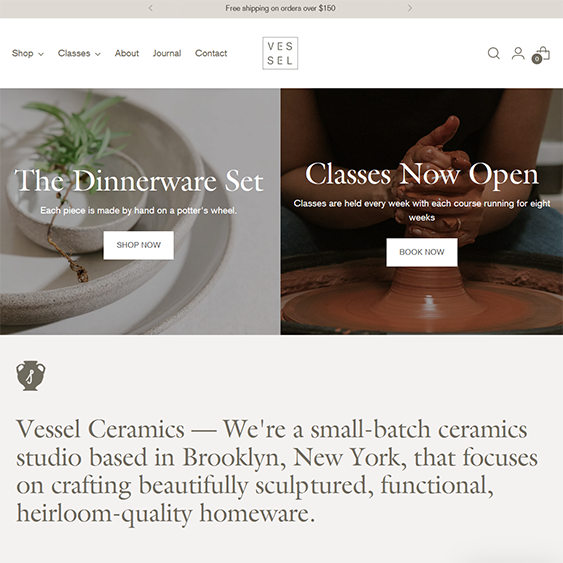 Stiletto — Craft is designed especially for selling homeware, including small-batch ceramics like vases, mugs, bowls, and plates, and it has a responsive layout, making it compatible with mobile devices. This OS 2.0 Shopify template also comes with drag and drop blocks and sections to create custom pages, dynamic product pages, built-in app functionality, conversion-boosting features, editorial content, visual storytelling, a sticky cart, cross-selling support, an age verifier, press coverage, an event calendar, a minimal design, a customizable contact form, a countdown timer, support for highlighting recommended and recently viewed products, promo banners, tiles, and popups, trust and product badges, quick view, image hotspot support, lookbooks, infinite scrolling, a back to top button, a free trial, and more.
Sit Stay – Mega Furniture Shopify 2.0 Responsive Theme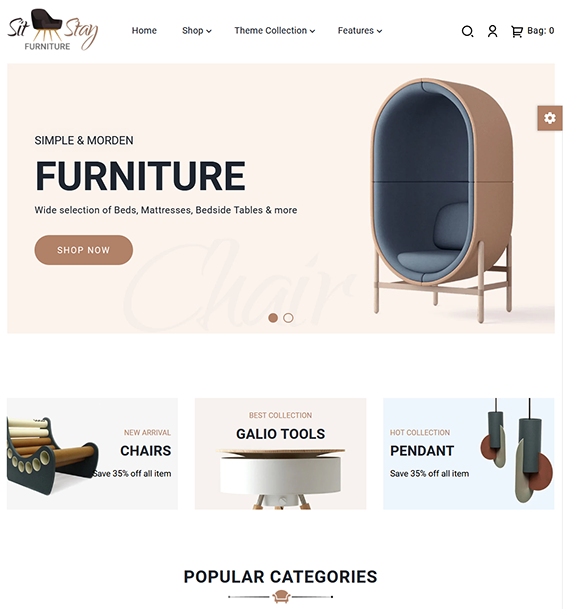 Sit Stay is made for selling furniture and home goods online, and it includes multi-language support, a Bootstrap framework, HTML5 and CSS3 code, 20+ sections, one-click installation, a horizontal mega menu, advanced search, Google Fonts, RTL language support, SEO optimization, an Ajax wishlist feature, a page builder, Ajax quick view, a blog system, support for product comments, Ajax product filtering, a color picker, lazy loading, a font changer, a popup newsletter subscription form, a custom CMS banner, product zoom, and more.
Vantage — Dark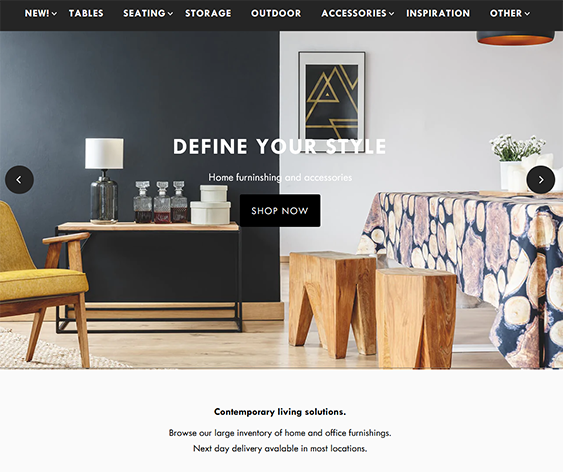 If you need to build an e-commerce website to sell planters, mirrors, rugs, daybeds, pillows, vases, chairs, tables, lighting, storage, bowls, and baskets, then you have to check out this Shopify theme. Vantage — Dark offers support for physical stores, a drag and drop page builder, support for large product catalogs, a contact form, gift wrapping support, EU translations for English, Spanish, German, France, and Italian, banners, color swatches, lookbooks, product video support, a slider, size charts, breadcrumbs, free theme updates, a mobile-friendly design, and more.
Stockholm
This Shopify theme is perfect for selling home decor like bowls, lamps, vases, candle holders, and dinnerware, as well as furniture like chairs, couches, and stools. Stockholm features easy setup and configuration, speed optimization, a flyout cart, OS 2,0 functionality, a content-led blog design, flexible blocks for images, videos, quotes, and products, promotional banners, product review support, galleries, free stock images, and more.
North — Greige

This furniture and home goods Shopify theme comes with multiple product page layouts, quick shop functionality, unique collection grid layouts, multi-language support, swatches, product sorting and filtering, sections for delivery and shipping info, product image rollover effects, photo galleries, blogs, support for stores that process a large number of transactions, a responsive design, and more.
Habitat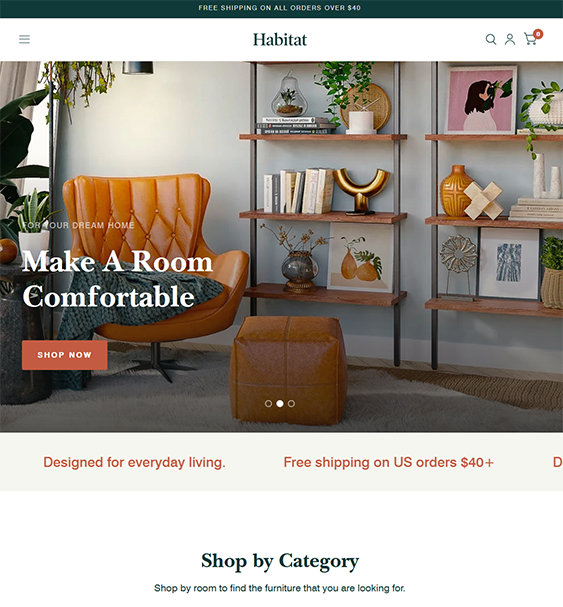 Habitat is made for ecommerce websites dedicated to selling bookshelves, baskets, sofas, armchairs, beds, mattresses, office chairs, chests, wardrobes, tables, outdoor chairs, tables, and lighting, table, desk, and floor lamps, lamp shades, ceiling lights, chaises, and footstools. This mobile-friendly Shopify template has support for members-only stores, 26 custom sections and conversion-optimized templates, a drag and drop store builder, support for in-store pickups, an FAQ page, promotional tiles, popups, and banners, tabs, free theme updates, and more.