The ecommerce furniture industry is thriving, and a recent report attributed the success of this global market — which was valued at nearly $28 billion in 2021 — to people being more willing to purchase multi-purpose, foldable, and technology-driven furniture online. In fact, this market is doing so well, it's predicted to reach over $40 billion by 2030. If you've been contemplating creating an ecommerce website to sell furniture via the internet, you're probably going to need an application to help you build and run your online store. Fortunately, there are lots of ecommerce platforms for you to choose from, with Shopify being one of the most popular options available today.
Shopify offers support for multi-location inventory, which means you can create and allocate inventory to your warehouses, retail stores, and online sales channels, but it also has support for dropshippers, making it a good choice for practically every type of furniture store. It also has auto-reconciliation, cash-flow management, social media integration, discount reports, rich customer profiles, custom printed receipts, demand forecasting, and more.
If you're still not sure if Shopify is the right ecommerce platform for your furniture brand, it also comes with a free trial, so you can give it a try before agreeing to a contract. There's also a wide variety of Shopify templates available for online furniture stores, and we've picked a few of our favorites to make it easier for you to visualize what your shop will look like if you use Shopify.
Erickson
Erickson is made for modern furniture stores, and this Shopify theme has a stock counter, a back-to-top button, a sticky header, a countdown timer, quick setup, support for physical stores, editorial content, cart notes, cross-selling support, promo banners and popups, an FAQ page template, blogs, product badges, image rollover effects, product tabs and options, animations, collection page navigation, breadcrumbs, product sorting and filtering, and more.
Banjo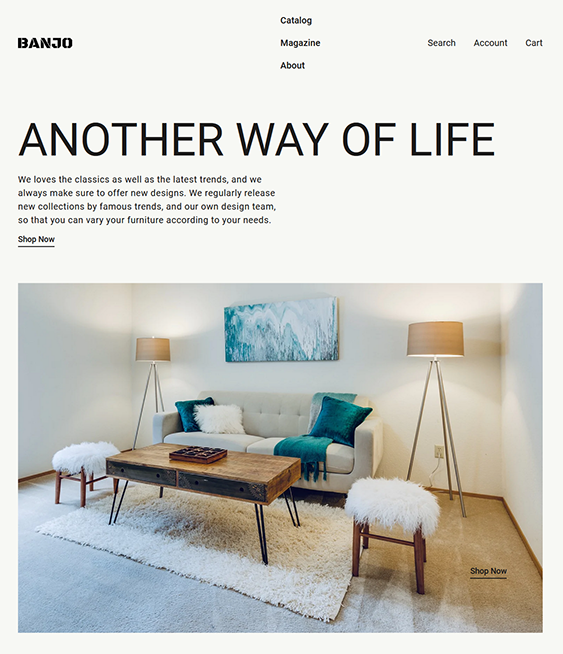 If you need to build an online store to sell furniture like sofas, tables, chairs, stools, chaise lounges, and loveseats, then you have to try Banjo — Casual. This minimalist Shopify theme features powerful filters to drive conversions, color swatches, speed, SEO, and performance optimization, EU translations for English, Spanish, French, Italian, and German, quick view, in-menu promos, OS 2.0 functionality, support for in-person selling, a slide-out cart, support for visual brand storytelling, trust badges, support for showcasing recommended and recently viewed products, an FAQ page, a customizable contact form, promotional banners and tiles, support for product reviews, image galleries, size charts, a slider, sections for shipping, usage, and delivery information, tabs, image zoom, free theme updates, tabs, and more.
Empire — Graphic
This OS 2.0 Shopify template has a marketplace-inspired design, making it ideal for furniture stores with large product catalogs, and it offers multiple EU translations, swatches, a product comparison feature, conversion-boosting navigation, tag filters, search by category, a drag and drop page builder with blocks for quotes, products, videos, and images, dropshipping support, banners, tiles, a store locator, support for high volume stores, free high resolution images, image hotspot support, free theme updates, an unlimited free trial, a responsive layout, enhanced search, product video support, and more.
Stark – Furniture & Home Decor Shopify Theme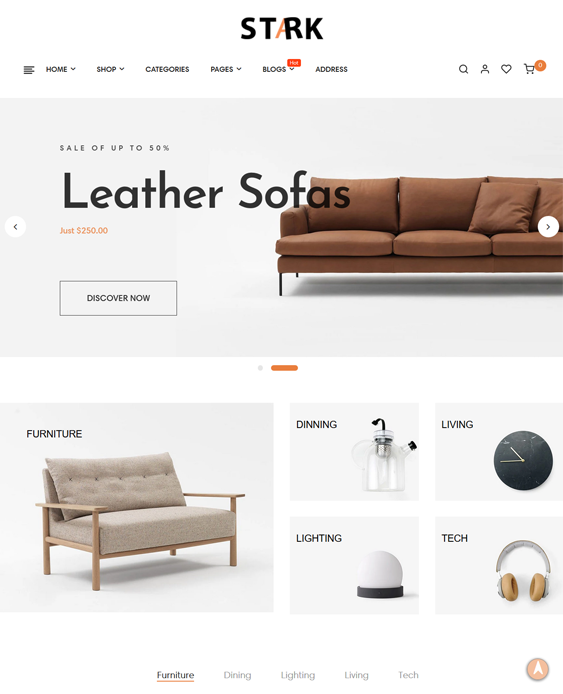 Stark is the perfect Shopify theme for ecommerce websites dedicated to selling home furnishings, including home decor and furniture, and it comes with a minimalist design, five homepage options, unlimited colors, a scroll-to-top button, demo content, sections for customer testimonials, timelines, and team members, custom font options, a promotion announcement bar, a gallery, a transparent header, social sharing, Google Maps integration, a popup newsletter subscription form, a custom mega menu, product filters, multi-language support, shipping estimates, an EU cookie policy, video support, multi-currency support, SEO-friendly code, Ajax search, multiple header and footer styles, and more.
Split — Looker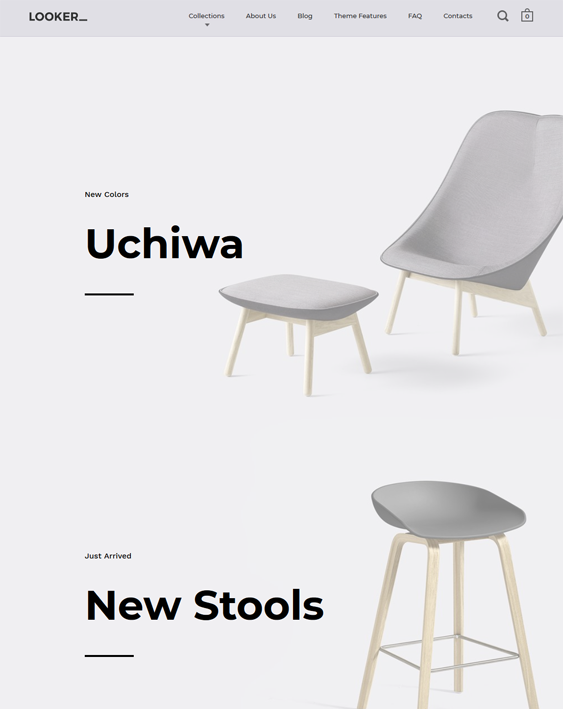 If you want to build a simple online store to sell modern tables, chairs, and stools, then you have to see Split — Looker. This furniture store Shopify theme offers a clean design, unique promotion banners, countdown headers, dynamic cross-selling, a shop the look feature, a split screen layout, a drag and drop website builders, support for flash sales, support for highlighting recommended products, photo galleries, free high resolution stock photos, a non-expiring license for one store, speed optimization, free theme updates, and more.
Galleria — Showroom
Galleria — Showroom is designed for ecommerce sites dedicated to selling office, lounge, outdoor, and dining furniture, and it has a versatile gallery, a unique column slideshow, support for stores that process a large number of transactions in a given period, a contact form, pre-order support, press coverage, free stock images, infinite scrolling, and more.