According to a recent report, between 2020 and 2025, ecommerce alcohol sales are predicted to rise by 66%, while a 2022 report revealed the majority of CBD sales occur online, making it abundantly clear that there is a thriving market for online stores dedicated to selling age-restricted products.
If you're thinking of a sell age-restricted items online, such as liquor, cannabis, or tobacco, you may want to consider using Shopify to build and manage your ecommerce site. After all, not only is it one of the most widely used ecommerce platforms available today, but there are also a number of Shopify apps and themes made especially for selling age-restricted merchandise.
Plus, Shopify is offering a free trial right now, which means you can try it out before making a long-term commitment.
Bouncer
Bouncer offers an easy way to age an age checker to your e-commerce website, making it a must for any online store that sells age-restricted products. This Shopify app allows shoppers to verify their ages in multiple ways, including via Facebook, their birthdates, and self-certification, and it lets you choose the minimum age people have to be in order to access your site. Plus, Bouncer comes with lots of backgrounds you can use to customize the appearance of the age verifier, but it also gives you the ability to upload your own image.
Wineshipping Fulfillment
If you want to sell wine online but you don't want to deal with the hassle of storing stock or shipping bottles and cases, then you have to check out Wineshipping Fulfillment. This Shopify app is made for dropshipping wine, so when someone buys something from your ecommerce site, the order details will be automatically transmitted to Wineshipping Fulfillment and they'll ship the items directly to the customer. Wineshipping Fulfillment offers real-time shipment tracking, so you and your shoppers will always know exactly where their orders are, and it includes branded email and SMS notifications and tracking pages, as well as an analytics dashboard where you can review carrier performance metrics.
DRINKS
This Shopify app is designed to make it easier to sell age-restricted items like alcoholic beverages online by helping insure your business complies with regulations specific to the wine and spirits industry. When someone tries to buy a product, such as a bottle of wine, that can't legally be shipped to their state or they attempt to purchase a quantity of alcohol that is prohibited by their location's legislation, DRINKS will prevent them from being able to complete their orders, saving you and your staff a lot of trouble. This Shopify plugin will also add an age verification tool to your online store to prevent underage people from shopping on your site, and it will use your customers' zip codes to perform tax calculations — including alcohol and liquor taxes — in real time.
Warnify Pro Warnings
With this Shopify plugin, you can easily add warnings to your ecommerce website, making it ideal for businesses that sell age-restricted merchandise that may be subject to additional restrictions and legislation. Warnify Pro Warnings also gives you the option to only show certain warnings to people who are based in specific locations, so you won't waste your time telling people are laws and regulations that don't actually apply to them, and you can customize the appearance of warnings, including with buttons and icons.
DigThisData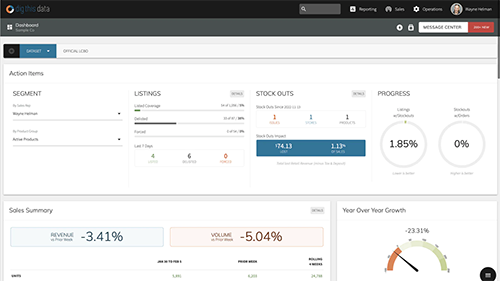 If your company uses DigThisData, a complete management platform made especially for retail and direct sales of wine, beer, liquor, spirits, and other alcoholic beverages, this Shopify app offers an easy way to integrate it into your online store. If you're not already using DigThis Data to help you manage your alcohol business, it's definitely worth checking out because it includes lots of useful tools to help simplify sales, warehouse management, reporting, CRM, and daily administration.
Upscale — Clay
Upscale — Clay is made especially for vineyards, wineries, and wine shops, and it comes with a stock counter, support for multiple EU translations, quick view, color swatches, in-menu promotions, speed and conversion optimization, a flexible design, cross-selling support, optimized navigation, filtering, and search, support for high volume stores, visual storytelling, dropshipping support, a drag and drop website builder, a slide-out cart, promo banners, tiles, and popups, a customizable contact form, gift wrapping support, cart notes, support for product reviews, an FAQ page template, blogs, sections for press coverage and shipping and delivery information, trust and product badges, support for showcasing recommended and recently viewed products, a sticky header, enhanced search, a mega menu, product options and tabs, a slideshow, image zoom, free stock photos, animations, image hotspot support, photo galleries, product image rollover effects, a non-expiring license for one store, and more.
Emporium — Fruity
This OS 2.0 Shopify theme is ideal for selling alcoholic beverages like hard seltzer, beer, hard cider, and wine, and it features support for English, Spanish, French, Italian, and German, in-collection promotions, support for highlighting bestselling products, seasonal sales, and limited-time discounts, a store locator, built-in custom fields, support for selling mix-and-match selection boxes, drag and drop sections and blocks for quotes, videos, products, and images, support for adding restaurant menus and nutritional info, promotional banners, free high resolution stock photos, support for selling digital products, quick setup, support for stores that process a large number of transactions, infinite scrolling, sections for shipping, delivery, and ingredients, breadcrumbs, a slider, free theme updates, and more.
Expanse — Contemporary
If you want to sell organic and sustainable wine, liquor, beer, and mixers online, then you have to check out Expanse — Contemporary. This responsive Shopify template has multi-language support, a countdown timer, an age verification tool, support for large product inventories, multiple product, collection, and landing page templates, a versatile custom promotion designer, product sales points and metafields, support for dropshippers, a user-friendly website builder, cart upselling support, a quick buy feature, support for physical stores, an FAQ page, product badges, support for in-store pickups, a contact form, banners, popups, and tiles, tabs, collection page navigation, an unlimited free trial, and more.
Story — Modern
This wine store Shopify theme includes a clean design, support for multiple languages, swatches, flexible blocks for images, videos, quotes, and products, support for in-person selling, a mobile-first design, Online Store 2.0 compatibility, support for visual brand storytelling, a blog, pre-order support, popups, trust badges, support for sharing recommended and recently viewed items, sections for ingredients and shipping, delivery, usage, and nutrition info, galleries, speed optimization, and more.
Parallax — Madrid
Parallax — Madrid is perfect for ecommerce websites that sell beer and other alcoholic drinks, and it offers parallax scrolling, a responsive layout, a built-in age verification tool, conversion-focused checkout, sticky dropdown navigation, quick shop, sections for slideshows, featured promotions, videos, and customer testimonials, support for dropshipping, back-in-stock alerts, support for pre-orders, cross-browser compatibility, and more.
Winery – Liquor, Vinery Multipurpose Responsive Shopify Store
If you want to create an ecommerce site for a winery or liquor store, you have to see this OS 2.0 Shopify template. Winery has RTL language support, one-click installation, PSD files, advanced product filtering, Ajax search, a homepage slideshow, mega menu navigation, Google Fonts, product image rollover effects, a product showcase, product wishlist and comparison features, quick add to cart, a persistent cart, a product carousel, free theme upgrades, support for multiple languages and currencies, SEO optimization, product comments, quick view, live chat support, four product page designs, product notifications, and more.
Local — Lively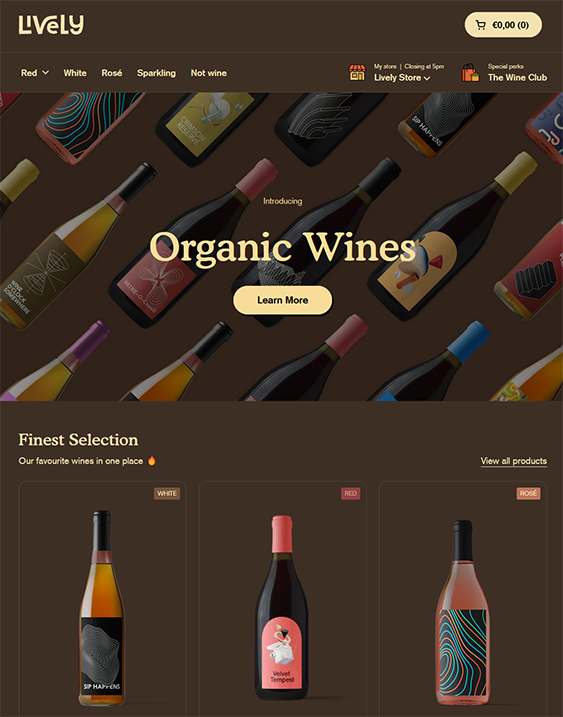 This dark Shopify theme is made especially for selling organic wines, and it features a built-in popup age verifier, an event calendar, a store location, interactive icons, quick buy, cross-selling support, trust and product badges, product image rollover effects, sections for shipping, delivery, nutrition, and ingredient info, a scroll-to-top button, and more.