According to recent research, the global ecommerce plant nursery market was valued at more than $10.2 billion in 2022, and experts predict it will nearly double over the course of six years, reaching an estimated $20 billion by 2028. If you're thinking of taking your plant nursery online, or you're interested in creating an ecommerce plant to sell succulents, shrubs, trees, and flowers for the first time, the online plant market should continue to grow at a healthy rate over the next few years.
However, you'll probably need an ecommerce application, like Shopify, to help you build and run your online plant store. Not only does Shopify offer lots of useful features to help you manage an ecommerce website, but there are actually multiple Shopify themes and apps that are perfect for selling plants online. We've chosen a few of our favorites for you to review, and if they make you want to learn more about Shopify, they're currently offering a free trial!
Size Chart & Guide | EasySizes
With this Shopify plugin, your customers don't have to guess if your plants will fit in a particular spot in their homes because it allows them to visually compare the sizes of your products, which you add to the app, with common household objects, such as wine bottles, soda cans, and dollar bills. EasySizes has a responsive design, so it's compatible with mobile devices like smartphones and tablets, and it has a customizable design, making it easy for you to make the app match your online store's existing branding.
Everspring ‑ Dropshipping EU
If you want to sell plants and flowers online, but don't want to deal with the stress of storing inventory and shipping products, then you have to try Everspring. When someone buys a plant or flowers from your ecommerce website, this dropshipping Shopify app will fulfill the order by automatically sending it to a member of their network of European growers. This Shopify plugin lets you choose from over a thousand different plants, flowers, and home decor products to feature in your online store, and it will automatically upload products and synchronize order data.
Sprout: Plant Trees Grow Sales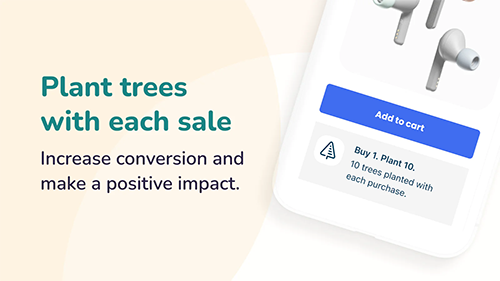 Sprout is the perfect Shopify app for online retailers who want to take their love of plants a step further by agreeing to plant a tree — or multiple trees — every time someone buys something from their online plant, flower, or gardening store. Simply install and configure this Shopify app, and Sprout will take care of the rest, making it ideal for business store owners. Plus, this Shopify plugin comes with support for multiple languages and currencies, and it includes counters, photos, videos, and badges to help you showcase your commitment to the environment to your site's shoppers.
Bloom: Delivery Date & Pickups
This Shopify app is ideal for florists and plant stores because it offers an easy way to manage delivery schedules, including blocking out dates and times, defining prep times, and setting cut-off times for orders. Bloom also lets retailers create 15, 30, and 60-minute time slots for in-store order pickups, it has complete localization support, and the interface can easily be customized to match existing branding.
Foodie — Grow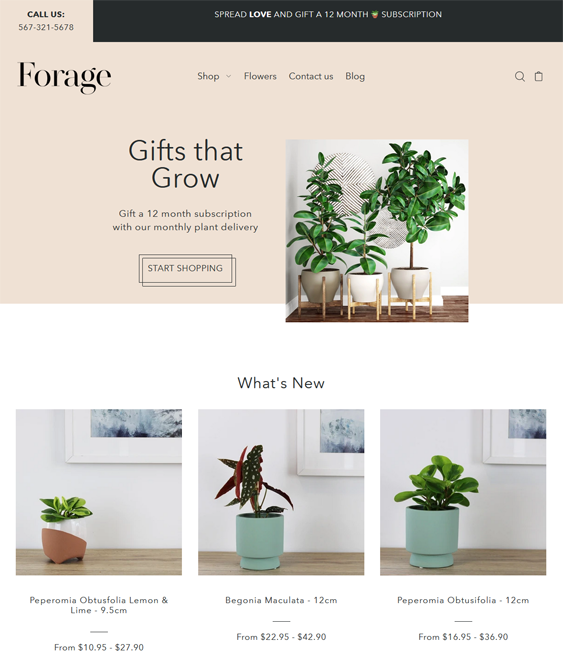 Foodie — Grow is made especially for selling plants online, and it comes with conversion optimization, a built-in age verifier, a mega menu, breadcrumbs, in-menu promotions, a sticky header, visual storytelling, a quick buy feature, cart notes, support for in-person selling, a slide-out cart, promo popups and banners, support for showcasing recommended products, image galleries, animations, cross-selling support, a slideshow, image zoom, product videos, collection page navigation, image galleries, speed optimization, a non-expiring license for one store, a mobile-friendly design, and more.
Pentosh – Gardening & Plants Store Shopify Theme
If you need to create an e-commerce website to sell indoor and outdoor plants online, then you have to check out this OS 2.0 Shopify theme. Pentosh features mobile optimization, a horizontal menu, a responsive layout, advanced product search, product wishlist and comparison features, a blog module, product column variations, a mobile-first design, one-click installation, CSS3 and HTML5 code, SEO optimization, Google Fonts, social media integration, a Bootstrap framework, support for multiple currencies and languages, Google Maps support, easy customization, Font Awesome icons, product video support, advanced product filters, popup product quick view, color swatches, and more.
Cascade — Classic
This clean Shopify theme is ideal for online florists and plant and flower stores, and it includes editorial content, drag and drop sections and blocks for images, quotes, products, and videos, multiple product templates, quick setup, an asymmetrical collection grid, a built-in age verifier, sticky and slide-out carts, blogs, an FAQ page template, product reviews, promotional popups, support for visual brand storytelling, lookbooks, a size chart, a slideshow, product tabs, photo galleries, product sorting and filtering, product image rollover effects, photo galleries, free theme updates, and more.
Be Yours — Peace
Be Yours — Peace is made especially for planting and gardening ecommerce websites, and it has a countdown timer, multiple EU translations for English, Spanish, French, German, and Italian, a store locator, swatches, dropshipping support, OS 2.0 functionality, an intuitive design, one-product store compatibility, a drag and drop page builder, support for physical stores, a customizable contact form, pre-order support, promo banners and popups, product badges, press coverage, a stock counter, an age verifier, gift wrapping support, image hotspot support, sections for shipping, usage, and delivery information, galleries, a before and after image sliver, enhanced search, infinite scrolling, breadcrumbs, support for showcasing recently viewed and recommended products, a non-expiring license for one store, free theme updates, speed optimization, and more.