A recent study found the global online market for jewelry was valued at more than $57 billion in 2022, and by 2027, it's predicted to more than double, reaching a value of $117 billion. Another report found that by 2025, between 25% and 30% of all jewelry sales could be made either through mobile platforms or e-commerce, highlighting the vitality of online jewelry stores.
If you want to get involved with this growing market, there are a number of ecommerce applications you can use to make and manage an online jewelry store. Among them is Shopify, one of the most popular ecommerce platforms available. Not only is Shopify filled with lots of useful features, but there are also a number Shopify themes and apps made especially for jewelry stores, and we've featured a few of our favorites below. In addition to these great plugins and templates, Shopify is currently offering a free trial, which means you can test it out before making a long-term commitment.
Artshiney:Jewelry Dropshipping
Artshiney offers a hassle-free to have your very own online jewelry store because when someone buys something from your ecommerce website, they'll create and pack the item — in a jewelry box featuring your logo — and ship it directly to your customer. This dropshipping Shopify app lets you choose from loads of different types of jewelry pieces to feature in your shop, and it gives people the ability to customize the merchandise.
GemFind RingBuilderⓇ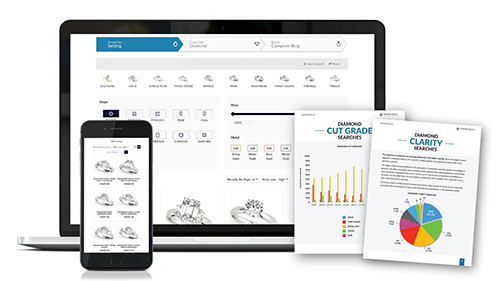 If you want to be able to sell engagement rings via your very own ecommerce site, then you have to check out GemFind RingBuilder. This Shopify plugin comes with a user-friendly builder your customers can use to create custom diamond rings, and then either you or one of GemFind's diamond suppliers can fulfill the orders.
mirrAR ‑ Virtual Try On
With this Shopify plugin, shoppers can see exactly how your pieces thanks to augmented reality, or AR, which can help increase your jewelry store's sales and decrease the number of returns you have to process. Not only does mirrAR allow your customers to virtually try-on items like earrings and necklaces, but it also lets them compare pieces side by side, and it comes with a detailed analytics dashboard you can use to gain insight into your store's shoppers.
TrendDrop | On‑Trend Jewelry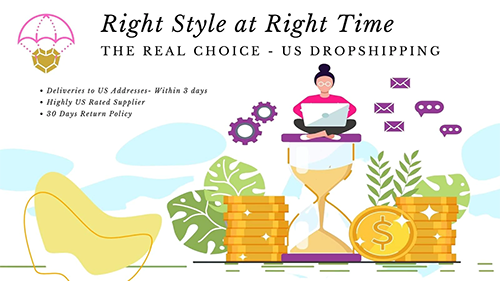 TrendDrop makes it easy to sell trendy fashion jewelry and accessories via your e-commerce website because when a person buys an item from your website, they'll automatically fulfill it for you, which means you don't have to store or ship inventory. Plus, after choosing the items from TrendDrop's catalog that you want to feature in your online store, you can import them with a single click, making it ideal for people who don't have a lot of technical knowledge.
Unbridaled Diamonds
If you want to sell jewelry — including rings, pendants, and earrings — featuring natural or lab-grown diamonds through your online store, you should definitely check out this Shopify app. Unbridaled Diamonds uses artificial intelligence (AI) curation technology to help your customers choose the right diamonds for them, and it includes product videos and certificates to give shoppers the confidence they need to purchase jewelry from your site.
Automation
Automation is designed especially for selling necklaces, rings, and earrings online, and it comes with back-in-stock notifications, speed optimization, a drag and drop page builder, built-in bundle support, an age verifier, support for multiple EU languages, a store location, color swatches, a countdown timer, a visual-focused design, slide-out and sticky carts, gift wrapping support, a customizable contact form, quick setup, a quick buy feature, preorder support, promo tiles, popups, and banners, an FAQ page, trust and product badges, image hotspot support, sections for delivery, shipping, and usage information, image zoom, a before and after image slider, animations, a slideshow, a back to top button, infinite scrolling, a sticky header, collection page navigation, breadcrumbs, enhanced search, lookbooks, and more.
Portland — Sparkle
This minimalist Shopify template is made for online watch stores, and it features quick view, a dark mode, customizable sections, OS 2.0 functionality, a flyout cart, support for high volume stores, blogs, a count form, product reviews, banners, visual storytelling, support for physical stores, galleries, tabs, product filtering and sorting, support for highlighting recommended and recently viewed products, and more.
Sahara — Mirage
If you need to build an ecommerce website dedicated to selling jewelry, then you have to check out this clean Shopify template. Sahara — Mirage has swatches, a stock counter, support for English, Spanish, French, Italian, and German, flexible customization options, drag and drop sections and blocks for creating custom pages, in-store pickup support, an FAQ page template, cross-selling support, in-menu promos, image zoom, product video support, a size chart, free theme updates, and more.
Sapphire Jewelry – Multipurpose Responsive Shopify Theme
This online jewelry store Shopify theme offers seven homepage and product page options, a blog, dividers, a responsive jQuery slider module, a newsletter subscription form, video support, a text editor, Instagram integration, an image carousel, a size guide, lazy loading, support for horizontal, vertical, and accordion mega menus, an Ajax cart, multi-currency support, Ajax search, and more.
Frame — Madison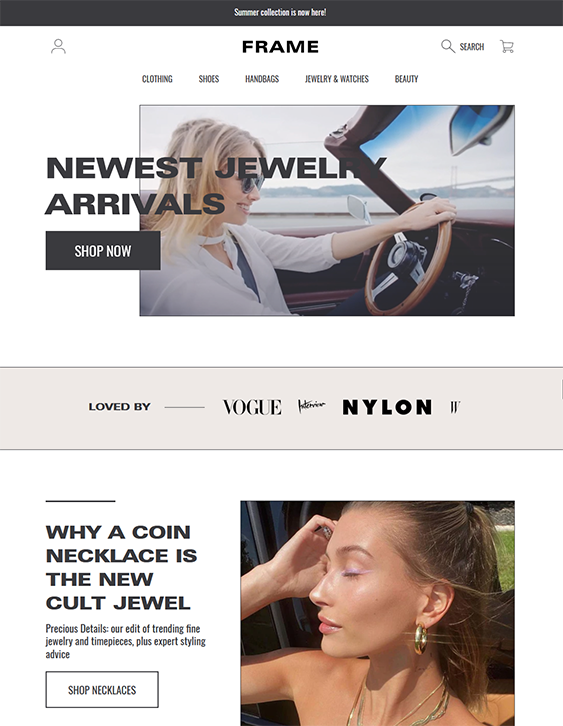 Frame — Madison is made for selling jewelry and clothing, and it comes with speed and conversion optimization, visual storytelling support, optimization for longer-form text sections, support for pre-orders, a sticky cart, flexible blocks for images, products, videos, and quotes, free high resolution stock photos, an unlimited free trial, and more.
Effortless — Jewel
Effortless — Jewel is perfect for fine jewelry stores, and it includes multi-language support, a responsive layout, a clean design, dropshipping support, trust badges, support for stores that process a large number of transactions, a scroll to top button, free theme updates, and more.
Envy — Gothenburg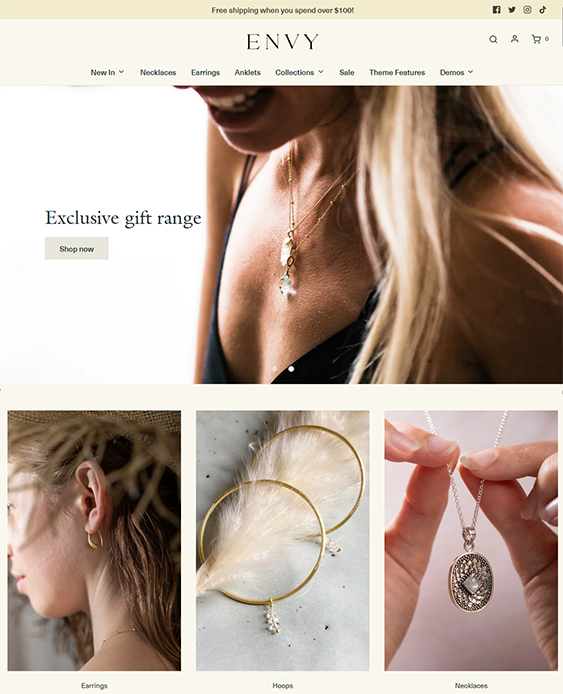 If you want to make an ecommerce jewelry site, you have to see Envy — Gothenburg. This mobile-friendly Shopify template features a mega menu, a built-in age verification feature, a shop the look section, prominent product options, support for flash sales, a user-friendly website builder, back-in-stock notifications, a section for press coverage, product badges, and more.