If you want to create a crowdfunding campaign to make it possible for you to turn a dream product into a reality, then you have to check out these Shopify apps. These Shopify plugins, are designed to help you set up and manage crowdfunding campaigns, and they come with great features like responsive designs, support for multiple campaigns, detailed analytics, and more.
Crowd Funding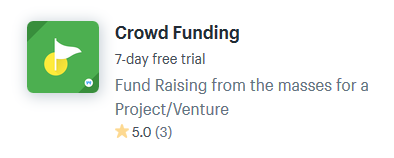 This Shopify plugin is ideal for creating and managing crowdfunding campaigns, and it allows you to have multiple campaigns at once. Also, Crowd Funding lets you create rewards for people who contribute to your products, and it even enables you to include videos to better explain your merchandise and mission. Plus, this Shopify app has a responsive design, so it's compatible with mobile devices like tablets and smartphones, and it provides detailed statistics to help you keep track of your campaigns.
Crowdfunder
This Shopify app is designed to make it easy for you to create and manage a crowdfunding campaign, and it allows you to set a financial goal or a desired quantity for your campaign. Plus, Crowdfunder comes with support for unlimited crowdfunding campaigns, and it has multi-currency support, making it ideal for entrepreneurs and creatives all over the world. Also, this Shopify plugin allows you to change your goal amount at any time, and it comes with a dashboard you can use to track your active revenue and orders.
Fundlify Crowdfund & Pre‑order
Fundlify is ideal for crowdfunding campaigns, and it comes with support for physical and digital products. Plus, this Shopify plugin allows you to take pre-orders during and after launching on crowdfunding sites like Indiegogo and Kickstarter, and it even lets you offer special deals to people who support your products before they're available for pre-order.  Also, Fundlify has a responsive design, making it compatible with mobile devices, it comes with support for multiple currencies, it allows you to limit the number of items each customer can purchase, it comes with seven templates for you to choose from, and more.
Crowdfunding Manager
This Shopify app will add a "Fund it now" button next to products in your online store, and you can offer multiple backing options to your customers. Plus, Crowfunding Manager is very easy install, and it enables you to showcase goals, videos, and raised amounts and statistics on product pages. Also, this crowdfunding Shopify plugin will automatically email your supporters with updates about your campaigns, you can manually or automatically end campaigns, and it comes with detailed statistics about each crowdfunding campaign.