Product videos can be a great way to introduce people to your brand and your merchandise, as well as to get your existing customers excited about new items and promotions, so we've chosen our favorite Shopify apps to help you create product videos. These Shopify plugins make it easy for you to create product videos for website and social media, and they come with great features, including templates, music, and lots of cool fonts.
Promo.com ‑ Promo Video Maker
This Shopify app is designed to help you create professional product videos you can publish anywhere, including on your store, Facebook, YouTube, Twitter, and Instagram accounts. Plus, Promo includes video templates for practically every industry, including education, music, travel, health, and fashion, and it comes with a wizard you can use to add text, watermarks, and music to your product videos.
Videofy ‑ Make Product Videos
If you want to make videos to showcase your products, then you have to check out this Shopify app. Videofy makes it easy for you to create product videos for your online store, as well as your company's Facebook page and YouTube account. Plus, this Shopify plugin comes with lots of different video styles for you to choose from, and you can select the fonts, music, and color schemes you want to use in your videos.
Product Video Maker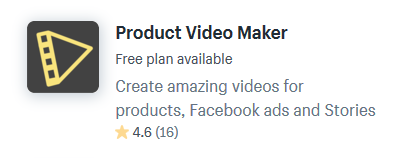 Product Video Maker allows you to easily create videos of your products for your online store, YouTube account, Instagram feed and stories, and Facebook feed and ads with the help of a drag and drop video editor. Plus, this Shopify plugin lets you add captions and logos to your videos, and it includes templates for lots of different industries, including fashion, food, and tech.