The global ecommerce market for pet-related products is expected to continue to rise over the next few years, growing from more than $38 billion in 2020 to a projected $87.43 billion by 2027. With 70% of Gen Z respondents in a recent poll stating they'd prefer to adopt a pet than have a human child, there's good reason to assume the global pet care market will continue to boom.
If you want to join this thriving industry, there are lots of different pet-related products you can sell with the help of some great Shopify themes and apps, such as dog leashes, cat litter, fish tanks, or reptile habitats. Plus, right now, Shopify is offering a free trial, which means you don't need to make a long-term commitment in order to try it out!
Champion — Vivid
This OS 2.0 Shopify theme is ideal for selling affordable and traceable food, treats, toys, and accessories for cats, dogs, reptiles, and birds, and it comes with color swatches, a mega menu, in-menu promos, EU translations for Spanish, English, French, German, and Italian, a sticky header, product video support, promotional banners and popups, an FAQ page template, image hotspot support, product tabs, a slide-out cart, support for high volume stores, quick setup, flash sale support, and custom product badges.
Fetch
Fetch is designed especially for ecommerce websites dedicated to selling eco-friendly and sustainable items for dogs, such as leashes, poop bag holders, collars, harnesses, and walking sets. Tis clean Shopify template has an age verifier, a countdown timer, multi-language support, a store locator, a responsive layout, support for physical locations, swatches, quick add to cart, cross-selling features, drag and drop sections and blocks, dropshipping support, visual storytelling support, cart notes, a sticky cart, support for pre-orders, blogs, in-store pickup support, animations, a before and after image slider, a stock counter, promo tiles, popups, and banners, image galleries, quick view, press coverage, sections for usage, ingredients, shipping, delivery, and nutritional information, size charts, lookbooks, tabs, support for product videos, image zoom, a back to top button, enhanced search, product sorting and filtering, breadcrumbs, collection page navigation, in-menu promotions, and more.
Loft — Kansas City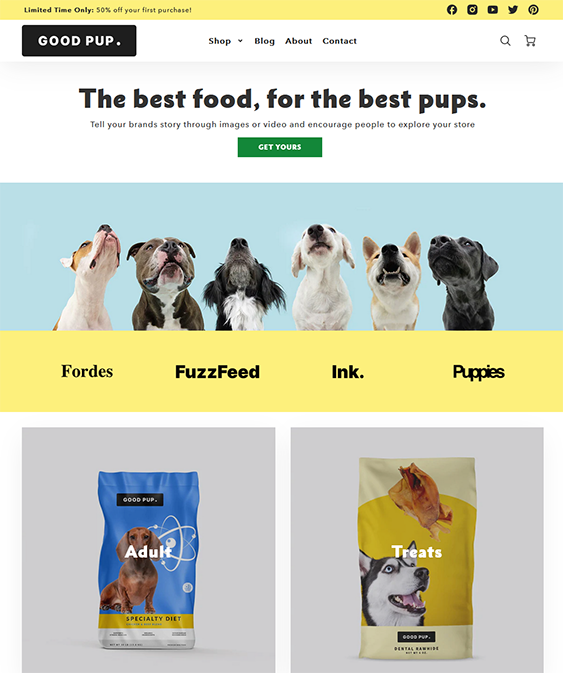 This online pet store Shopify theme is made for selling organic food and treats for dogs, and it features flexible blocks for images, quotes, videos, and products, editorial content, banners, promotional tiles, support for showcasing recommended products, a slideshow, a user-friendly drag and drop website builder, and a responsive layout.
Happy Pets – Animals Store Responsive Multipurpose Shopify Theme
If you want to sell pet products online, including cat trees, feeders, hamster wheels, pet carriers, food and water bowls, toys for cats and dogs, pet beds and houses, leashes, collars, pet food and treats, medications for small animals, cat litter, pet grooming supplies, and litter boxes, this Shopify theme is ideal for online pet stores. Happy Pets offers product wishlist and comparison features, Google Maps integration, voice search. OS 2.0 compatibility, parallax effects, product image zoom, a Facebook like box, support for popup and fullscreen carts, infinite scrolling, support for YouTube videos on product pages, a lookbook, support for product and blog videos, four types of product cards, multiple footers and headers, SEO optimization, a slider, and more.
Paper — Pull
Paper is perfect for leashes, collars, harnesses, and pet food, and it has support for multiple languages, an age verification feature, support for large product inventories, a conversion-boosting design, drag and drop sections, cart sharing, a dark mode, speed optimization, support for in-person selling, product and trust badges, free high resolution images, galleries, a stocky counter, support for highlighting recommended and recently viewed products, sections for usage, delivery, ingredients, shipping, and nutrition information, a scroll to top button, quick setup, and support for stores that process a lot of transactions.
Boost — Bloom
With this clean Shopify theme, you can create a stylish online pet store to sell products for dogs and cats, and it features in-menu promotions, feature-rich sections and blocks for images, quotes, videos, and products, customizable promotions, SEO and performance optimization, advanced product filters, immersive content, a user-friendly drag and drop website builder, a quick buy feature, a customizable contact form, a slideshow, breadcrumbs, free theme updates, an unlimited free trial, a non-expiring license for one store, a responsive layout, free stock photos.
Petlytics: Pet Store Marketing
This Shopify app is ideal for online pet stores because it allows you to collect valuable information about your customers' pets, including their names, genders, ages, breeds, birthdays, and even photos of them, using a widget that you can place on various pages of your website. Plus, Petlytics gives you the option of providing people promo codes in exchange for submitting details about their pets, it lets you view and analyzed your store's sales by the breeds, ages, and types of your customers' pets, and it allows you to export their profiles to MailChimp.
PetPro AI
With PetPro AI, you can add a form to your ecommerce website that shoppers can use to supply to their pets' demographics, such as their species, breed, age, name, body condition, living companions, and lifestyle, as well as their image. Then, your customers can match their pets with the products they've ordered, so it's incredibly easy for people with multiple pets to review and re-order items. This Shopify app also lets you offer an incentive to people providing their pets' information, and it lets you assign pet attributes to every product in your store's catalog, making it simple for you to suggest relevant items to the right customers.