Whether you're a retailer, a wholesaler, or a dropshipper, if you want to sell clothing online, you'll probably need to create an e-commerce website for your brand. There are lots of different ecommerce applications you can use to build and run an online shop, including popular platforms like BigCommerce, WooCommerce, Ecwid, and Shopify. While they're all fairly similar, features vary from platform to platform, but Shopify is a great option for most online fashion websites.
Not only does Shopify allow users to sell items online, but it also comes with its own payment provider, enabling store owners to accept credit card payments. Plus, the Shopify POS app makes it easy to sell products in person, not just online, so you can process sales in your store and at mobile locations like markets, fairs, and pop-ups.
To help you learn more about your customers and sales, Shopify even comes with analytics and reports that allow you to gain great insight into not only what people are buying from your store, but also who they are, which is incredibly important for fashion brands.
Shopify also offers lots of different apps and themes made especially for the clothing industry, and we've chosen a few of our favorite fashion templates to share with you. We've found themes for selling swimwear, athleisure, high fashion, sportswear, and accessories, which can help you envision how your finished store will look! Plus, because Shopify comes with a free trial, you can even build your ecommerce website — complete your own branding and products — without paying anything until you launch it!
Mandolin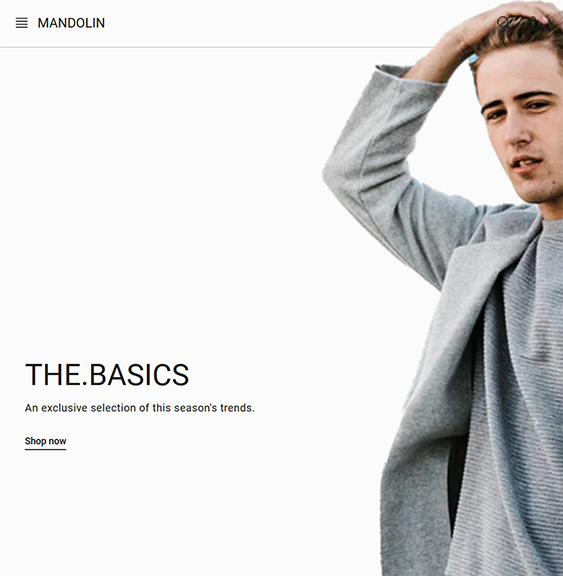 Mandolin has a super minimalist design, and it's made especially for selling stylish basics for men and women. This clothing store Shopify template offers a slide-out cart, a customizable contact form, cross-selling support, an FAQ page template, quick setup, support for physical locations, animations, color swatches, promo tiles and banners, quick view, in-menu promotions, product tabs and options, size charts, sections for delivery and shipping info, product video support, product image rollover support, a stock counter, and more.
Urban- Luxurious and Trending Fashion Shopify 2.0 Responsive Theme
Urban is the perfect Shopify theme for selling luxury fashion, and it comes with Oberlo compatibility, SEO optimization, multi-currency support, GDPR compatibility, layered PSD files, a retina ready design, a mobile-first layout, support for multiple languages, a size chart, a countdown timer, a popup newsletter subscription form, Ajax block search, Google Maps integration, a cookie bar, product quick view, a wishlist feature, custom product labels, unlimited sidebars, one click import/export, and more.
Mojave
This OS 2.0 Shopify theme is designed for fashion stores that sell clothing for women, and it includes support for high-volume stores, advanced customization, powerful product filtering, large imagery, minimalistic fonts, conversion-optimized product pages, visual storytelling, EU translations, promo popups, product badges, a quick buy feature, in-store pickup support, image galleries, lookbooks, a slider, image hotspot support, free theme updates, a non-expiring license for one store, and more.
Yuva
If you need to build an online shop to sell clothing and accessories for men and women, Yuva is a great option. Not only does it have a mobile-friendly design and free high-resolution stock images, but this Shopify theme also includes multi-level menus, a countdown sale banner, clean typography, support for flash sales, flexible blocks for quotes, videos, images, and products, speed optimization, preorder support, a sticky cart, support for sharing recommended and recently viewed products, swatches, product badges, image zoom, breadcrumbs, a back to top button, collection page navigation, infinite scrolling, a free trial, and more.
Minion — White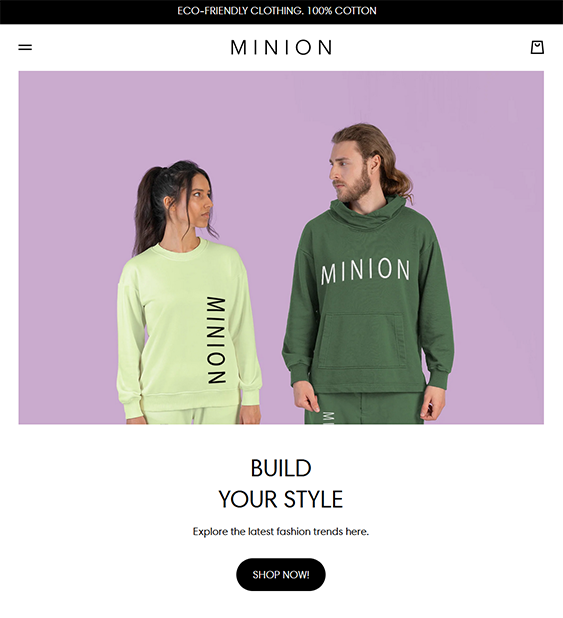 This Shopify template is made especially for selling eco-friendly athletic clothing for women and men, including tracksuits, hoodies, sweatshirts, and sweatpants, and it has a mobile-first design. Minion — White also features three types of navigation, drag and drop blocks and sections, dropshipping support, press coverage, a stock counter, banners, trust and product badges, multi-language support, a stock counter, enhanced search, product sorting and filtering, a sticky header, and more.
Influence
This mobile-first Shopify theme is made for selling dresses, tops, shirts, skirts, and pants for women, and it offers powerful navigation, visual storytelling, 20+ sections, flexible menus, powerful predictive search, advanced product discovery, conversion-optimized templates, a drag and drop page builder, promotional tiles, trust badges, product options and tabs, sections for shipping and delivery information, free stock images, free theme updates, and more.
Tailor
Tailor is perfect for selling sustainable fashion online, and it has a responsive design, so it's compatible with mobile devices like smartphones and tablets. This Shopify template also comes with customizable product labels, quick add to cart, meta fields, live search, customizable collections, color swatches on product cards, a built-in size chart, cross-selling, shoppable images, a drag and drop website builder, OS 2.0 functionality, support for EU translations for English, Spanish, French, Italian, and German, photo galleries, support for product videos, and more.
Chord — Warm
This clean Shopify theme is made specifically for stores dedicated to selling accessories, shoes, and clothes, including jeans, tops, blouses, dresses, shirts, coats, and jackets. Chord — Warm has support for physical stores, SEO, speed, and performance optimization, flexible sections and blocks for creating custom pages, advanced product filters, multiple product page layout options, cart notes, product and trust badges, support for highlighting recently viewed and recommended products, a non-expiring license for one store, and more.
Story — Bright
If you want to create an e-commerce site to sell workout clothes for women, such as leggings, shorts, crop tops, sports bras, bodysuits, and shorts, then you have to see Story — Bright. This Shopify template features a mobile-first layout, quick buy, in-menu promos, support for cross-selling, promo popups, a store locator, lookbooks, free images, color swatches, video support, image zoom, enhanced search, collection page navigation, speed optimization, and more.
Palo Alto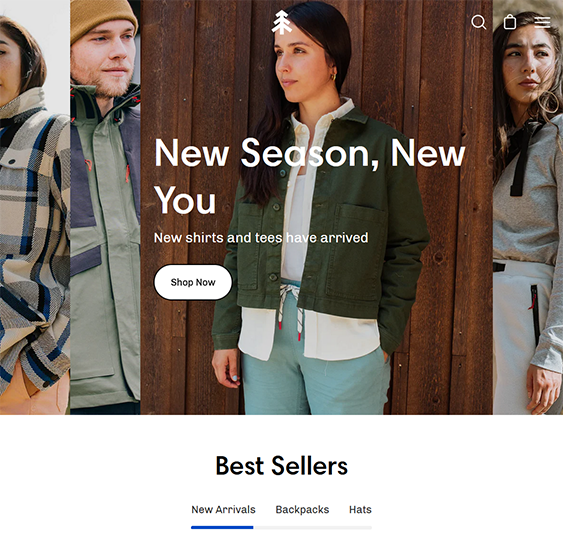 Palo — Alto is made for selling backpacks, hats, and clothing online, and it includes out-of-stock notifications, multiple popups, product upselling support, sections for products, collections, about and contact information, and FAQs, speed and mobile optimization, easy customization, and more.
Forge — Carbon
This swimwear Shopify theme is designed for online stores that sell bathing suits and bikinis, and it comes with a user-friendly website builder, an OS 2.0 design, gift wrapping support, slide-out and sticky carts, promotional banners and popups, color swatches, a free trial, and more.