More than ever before, consumers are spending their money on specialty food and beverage items, and a recent report valued the market at $175 billion in 2021. In fact, 76% of shoppers reported purchasing specialty drinks and foods, with plant-based items, ready-to-drink alcoholic beverages, meat, cheese snacks, coffee, frozen and refrigerated meals and desserts, and chocolate being some of the most popular items. A lot of people are choosing to make these purchases via the internet, indicating how important it is for specialty food and beverage brands to have an online presence.
If you need to create an ecommerce website for your specialty food or drink company, there are a number of platforms you can use to build and manage your online store. Without a doubt, Shopify is one of the most popular applications on the market today, and it boasts a wide range of features, such as a user-friendly store builder, dropshipping support, social media integration, real-time insights, payment tracking, inventory management, and more. Shopify also offers a free trial, so you can test it out before making a long-term commitment, Plus, there are lots of gorgeous themes available for Shopify, including several that are made especially for selling gourmet and specialty drinks and foods.
Whisk
This OS 2.0 Shopify theme is made especially for selling oils made from sustainably farmed olives, and it has visual storytelling, support for selling age-restricted products, a blog with support for adding recipes and recommending products in posts, customizable shapes and borders for sections and images, a store locator, a mega menu, conversion optimization, breadcrumbs, editorial content, in-store pickup support, a slide-out cart, press coverage, sections for ingredients and usage, shipping, delivery, and nutritional information, enhanced search, and more.
Taste
Taste is designed for ecommerce sites dedicated to selling healthy products like plant-based milk, cold-pressed juices, shakes, lemonades, boosters, and kombucha, and this free minimalist Shopify template comes with a sticky header, quick view, products sections with support for specialty product highlights, bespoke FAQs, and larger product cards, flexible customization and design settings, industrial fonts, quick setup, cart notes, a quick buy feature, blogs, an FAQ page, image galleries, cross-selling support, product filtering and sorting, a slideshow, and more.
Crave
If you need to create an online store to sell specialty food items like Asian meal starters, then you have to see Crave. This free mobile-optimized Shopify theme features dynamic checkout options, advanced customization options, Os 2.0 functionality, support for cross-selling, promo banners, image rollover effects, product video support, a slider, product options, image zoom, support for product reviews, an FAQ page template, in-store pickup support, and more.
Emporium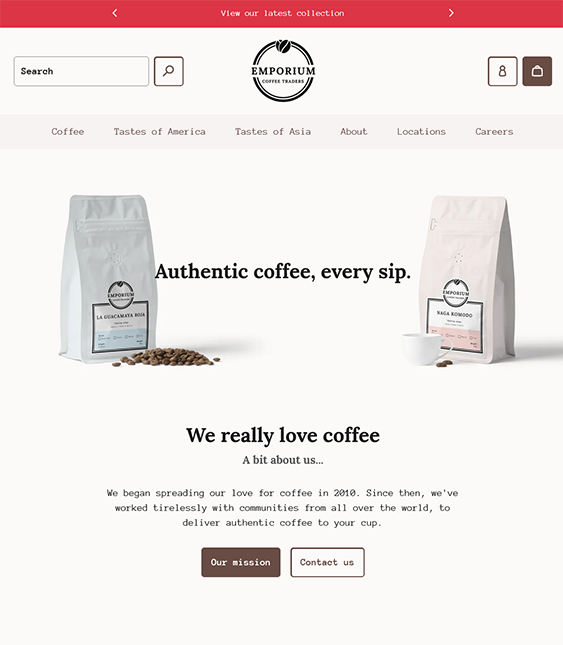 Emporium is perfect for ecommerce websites that sell ethically produced coffee, and it offers a clean design, infinite scrolling, a stock counter, sections for nutritional information, restaurant menus, and delivery partners, promotional banners, photo galleries, breadcrumbs, support for showcasing recommended products, a drag and drop builder, video support, a non-expiring license for one store, free theme updates, and more.
Shapes — Pastel
This retro-inspired Shopify template is ideal for online shops that sell specialty chocolate made from all-natural ingredients, and it includes built-in style blocks for adding shapes, dividers, stickers, and patterns to sections, industry icons, flavor scales, comparison tables, color swatches, an age verifier, support for visual brand storytelling, a slide-out cart, product badges, banners, image rollover effects, animations, free high resolution images, collection page navigation, speed optimization, an unlimited free trial, and more.
HoneyBee – A Clean, Professional & Modern Shopify OS2.0 Responsive Theme
This mobile-first Shopify theme is made for selling specialty ingredients like purified honey, and it includes SEO optimization, a cookie bar, a wishlist feature, Google Maps integration, multi-language support, Ajax block search, a popup newsletter subscription form, product image rollover effects, Ajax product buttons, Ajax search, layered PSD files, GDPR compatibility, custom product labels, unlimited sidebars, Oberlo compatibility, support for multiple languages, and more.
Local
Local is perfect for specialty grocery stores that sell organic foods, snacks, and drinks, and it features a minimal design, EU translations for English, Spanish, German, Italian, and French, an event calendar, an age verification feature, support for multiple physical locations, interactive icons, flexible blocks for images, products, quotes, and videos, support for high volume stores, cross-selling support, promo popups and banners, trust badges, in-menu promos, product filtering and sorting, a responsive layout, free stock photos, and more.
Shapes — Neon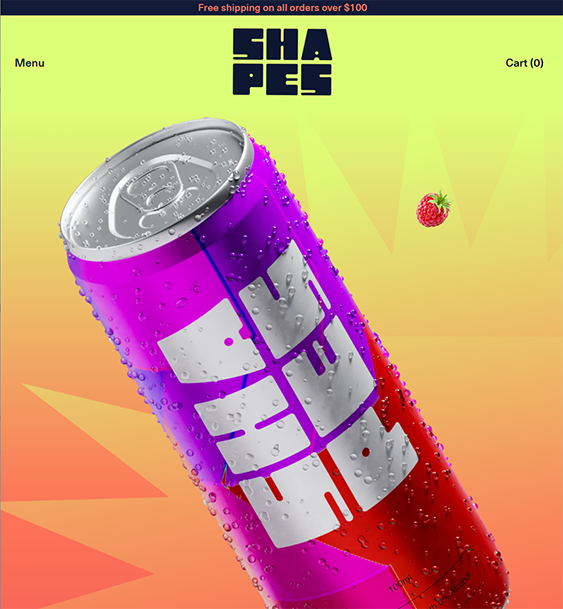 If you need to create an ecommerce site to sell specialty beverages, you have to try this responsive Shopify theme. Shapes — Neon is designed for selling organic, low-sugar, gluten free, low-carb, and alcohol-free seltzer, and it has drag and drop blocks and sections, product review support, swatches, free high resolution stock photos, sections for ingredients and nutritional info, galleries, cross-browser compatibility, and more.
Andaman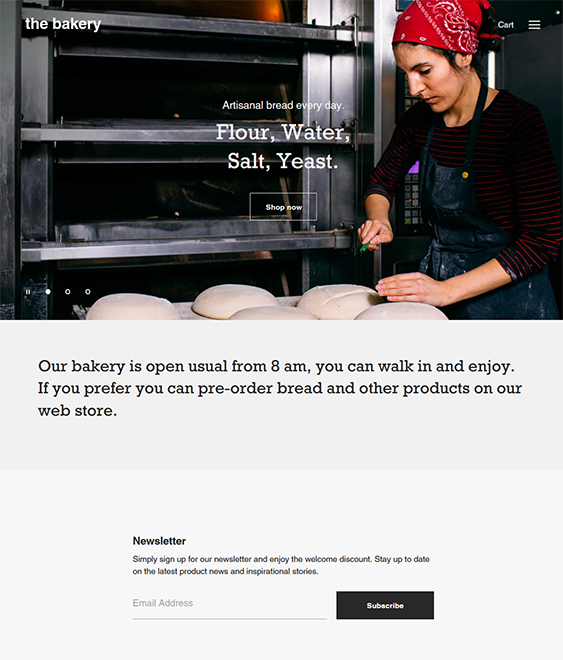 This mobile-friendly Shopify theme is made for selling baked goods like handmade organic breads, and it comes with a minimal design, product storytelling, in-menu promos, drag and drop sections on every page, support for meta fields, a product availability checker, easy customization, optimization for longer-form text sections, a customizable contact form, promo banners, popups, and tiles, product and trust badges, stock photos, in-person selling support, sections for shipping, usage, and delivery information, and more.