While fast fashion is still incredibly popular, more and more consumers are concerned about the impact their clothing has on people, communities, and the environment. Consequently, the global market for sustainable and ethical fashion is growing, and while it was valued at more than $6 million in 2020 according to a recent report, it is expected to reach over $10 million by 2025 and more than $15  million by 2030. If you want to sell clothes online that are eco-friendly and ethically made, now is a great time to get started! However, you're probably going to need an ecommerce platform to help you build and run your online store. There are lots of applications for you to choose from, and deciding on just one can be extremely overwhelming.
Shopify is one of the best ecommerce applications available today, and it includes a lot of incredibly useful features. Shopify has its own payment provider, which will allow you to accept credit card payments, making it ideal for new businesses, and it also offers support for payments made via Amazon Pay, Apple Pay, PayPal, and Meta Pay. It also offers detailed analytics to help you gain valuable insights about your finances, customers, inventory, orders, sales, marketing, and profits, which can help take a lot of the guesswork out of running an online store.
In addition to these awesome features, Shopify has a free trial, so you can test it out before making a financial commitment, and there are lots of templates made especially for ethical and sustainable clothing stores, enabling you to see how your finished website might look.
Mode — Solar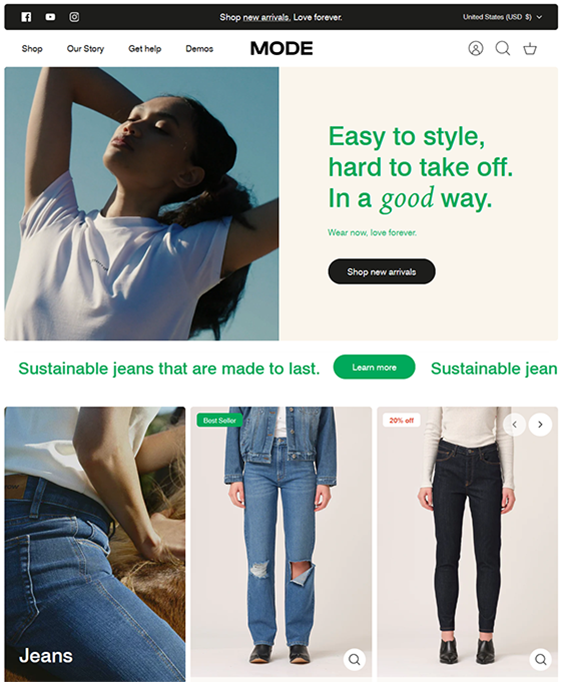 Mode — Solar is made for selling sustainable jeans and denim, and it has support for large product inventories, conversion optimization, a stock counter, color swatches, EU translations for English, French, Italian, German, and Spanish, a customizable contact form, pre-order support, press coverage, cross-selling support, an FAQ page template, support for in-store pickups, trust badges, support for high volume stores, product options and tabs, image hotspot support, size charts, image rollover effects, lookbooks, enhanced search, and more.
Alchemy — Sharp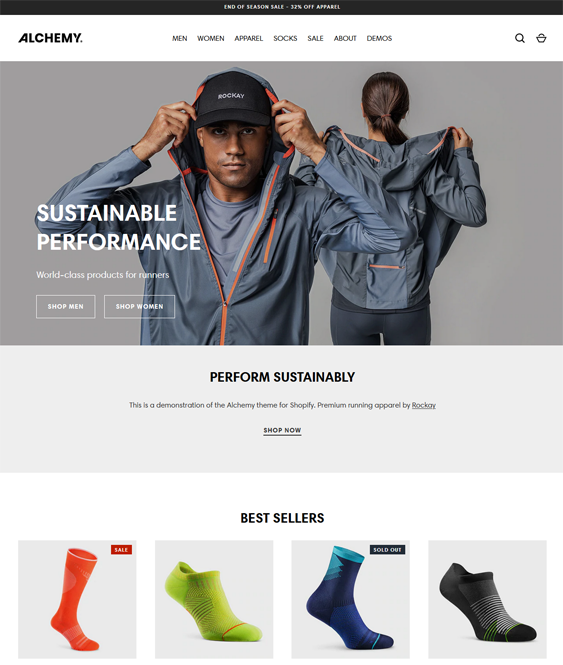 This modern Shopify theme is made for selling sustainable sportswear for athletes, and it features in-menu promos, a store location, multiple EU translations, performance, conversion, and SEO optimization, promo tools, advanced product filters, flexible sections, OS 2.0 functionality, quick setup, visual storytelling, cart notes, product badges, support for highlighting recommended products, animations, image galleries, a slider, image zoom, breadcrumbs, a mega menu, collection page navigation, a sticky header, and more.
Pipeline — Clean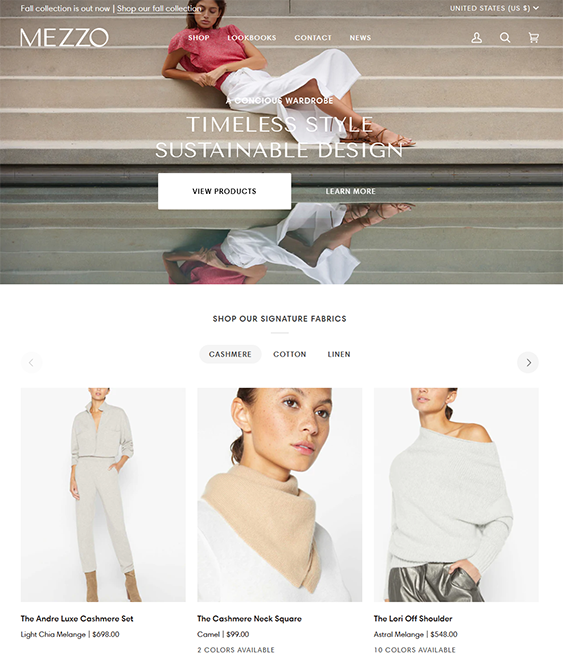 If you want to build an online store to sell luxurious and sustainable clothing for women, you have to see Pipeline — Clean. This clean Shopify theme offers drag and drop sections on every page, templates for about, team, and contact pages, support for stores that process a large number of transactions in a given period, a quick buy feature, support for physical stores, a contact form, promotional banners and popups, support for showcasing recently viewed and recommended products, free high resolution photos, product and trust badges, tabs, sections for shipping/delivery information, product view support, product filtering and sorting, and more.
Lorenza — Chic
Lorenza — Chic is designed especially for ecommerce websites that sell sustainable fashion, and it includes an editorial-inspired design, mosaic grids, split slideshows, multi-language support, a drag and drop page builder with blocks for images, quotes, videos, and products, support for visual brand storytelling, quick view, promo popups, support for product reviews, infinite scrolling, a non-expiring license for one store, an unlimited free trial, and more.
Broadcast — Modern
This OS 2.0 Shopify theme is perfect for selling sustainable and eco-friendly clothes for men, and it has a back to top button, support for in-person selling, drag and drop sections and blocks for creating custom pages, speed and mobile optimization, one click add to cart, robust promotional features, upselling support, a before and after image slider, gift wrapping support, free theme updates, free stock photos, a responsive layout, and more.
Emerge — Light
If you want to build an online store to sell eco-friendly workout clothing, then you have to see Emerge — Light. This minimal Shopify template comes with back in stock notifications, color swatches, a stock counter, large immersive image sections, a scalable design, conversion optimization, a drag and drop website builder, banners, a slideshow, and more.
Mojave
Mojave is made for selling sustainable yet affordable fashion, and this contemporary Shopify theme comes with conversion-optimized product pages, large imagery, minimalistic fonts, advanced customization, support for high volume shops, powerful filters, free stock images, free theme updates, and more.