According to a recent report, the global menswear market was valued at over $530 billion in 2021, and it's expected to hit nearly $747 billion by 2027. The global menswear market includes sportswear, ethnic fashion, formalwear, and casual clothing, and experts believe the growth of ecommerce has been and will continue to be a driving factor behind the industry's expansion. Industry experts also believe more and more men will be looking to buy clothing made from environmentally conscious materials, and a recent trend in menswear has been clothes that are custom-made, tailored, and customizable. Consequently, if you're thinking of creating an online store to sell clothing and accessories for men, it's definitely a growing market, and there are a number of trends for your brand to capitalize on.
If you're going to build an online store for your menswear brand, you're almost certainly going to need an ecommerce application to help you create your shop. Thankfully, there are lots of options to choose from, including Shopify, which is one of the most popular ecommerce platforms on the market today! Shopify includes loads of fantastic features, including financial reports, detailed marketing analytics, support for discount codes and manual order creation, automatic shopping cart abandonment emails, fraud analysis, and more.
Plus, there are tons of stunning Shopify themes for you to choose from, including several made especially for selling menswear that we've featured below. The best part about Shopify is that it includes a free trial, which means that before making a long-term financial commitment, you can ensure it's the right ecommerce solution for your men's fashion company!
Creative — Chalk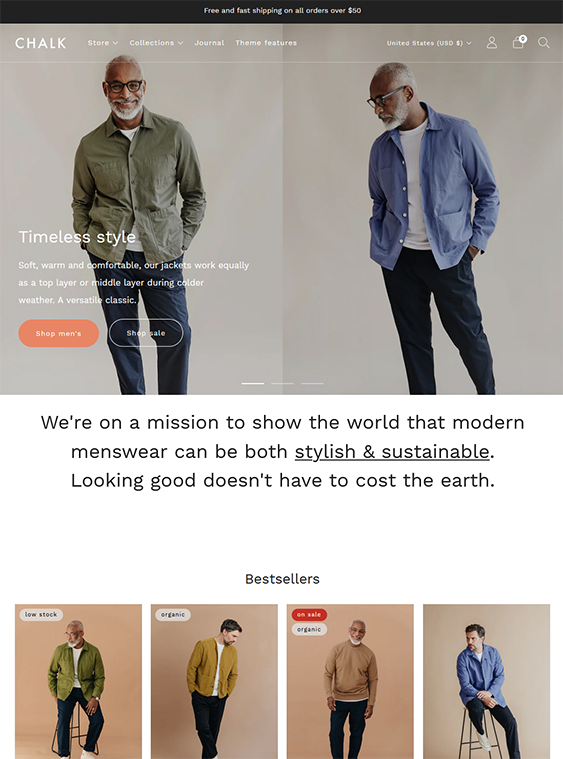 Creative — Chalk is designed for selling stylish and sustainable modern menswear, and it comes with color swatches, quick view, an age verifier, a store locator, multiple EU translations, quick shop, a minimalist design, OS 2.0 functionality, visual storytelling, quick setup, a customizable contact form, promo banners, tiles, and popups, an FAQ page template, a slide-out cart, gift wrapping support, in-menu promotions, product badges, press coverage, cart notes, a stock counter, support for recommending products, trust badges, animations, image zoom, product video support, a slideshow, a section for usage information, product options and tabs, image galleries, lookbooks, image rollover effects, size charts, enhanced search, breadcrumbs, product sorting and filtering, a mega menu, collection page navigation, a sticky header, and more.
Pacific — Bold
This OS 2.0 Shopify theme is designed for selling clothes for men, including trousers, jackets, shirts, and accessories, and it features custom homepage modules for blogs posts, promotional blocks, and more, a multi-column menu with product images, sitewide promotion tiles, a multi-tiered sidebar menu, support for large product inventories, editorial content, support for physical stores, a drag and drop page builder, support for high volume stores, in-menu promos, galleries, tabs, a slider, free high resolution images, promo banners, product review support, an age verification feature, breadcrumbs, product filtering and sorting, support for highlighting recommending products, a clean design, and more.
Mandolin — Neat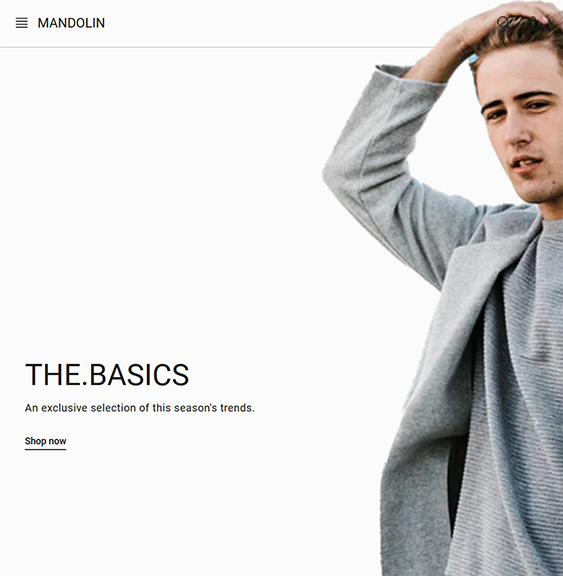 If you need to create an ecommerce site to sell men's clothes, you have to see this minimalist Shopify template. Mandolin — Neat has a flexible design, swatches, support for EU translations, including English, French, Spanish, German, and Italian, SEO, speed, and performance optimization, flexible sections, advanced product filters, conversion optimization, powerful product filters, multiple product page layouts, speed optimization, support for in-person selling, blogs, a contact form, an FAQ page, trust and product badges, promo tiles, support for showcasing recommended and recently viewed products, photo galleries, video support, sections for shipping, delivery, and usage info, product tabs and options, and more.
Colorblock
This free Shopify theme is perfect for online stores that sell knitwear for men, and it offers customizable blocks of colors, support for large product catalogs, atypical typography, advanced customization options, advanced filtering capability, expanded menu navigation, drag and drop sections and blocks, support for brand storytelling, banners, cross-selling support, free stock photos, free theme updates, cross-browser compatibility, and more.
Vantage — Simple
Vantage — Simple is ideal for selling casual clothing for men, such as sweatshirts, t-shirts, and hoodies, and it includes multi-language support, a conversion-focused design, multiple product and collection-focused sections, support for stores that process a large number of transactions in a given period, a sticky cart, support for gift wrapping, popups, support for sharing recently viewed products, a non-expiring license for one store, and more.
Baseline — Modern
This men's sportswear Shopify theme features a brutalist design, text and navigation sections for displaying menus, products, and collections, multiple product templates, promo banners and tiles, sections for delivery and shipping information, a size chart, an unlimited free trial, and more.
Elegant – Office Men's Fashion Shopify Theme
If you want to make an online store to sell men's suits and formalwear, then you have to see Elegant. This mobile-friendly Shopify template comes with a slideshow module, HTML5 and CSS3 code, Google Fonts, shopping shortcodes, four layout options, a Bootstrap framework, a powerful management panel, and more.
Broadcast — Modern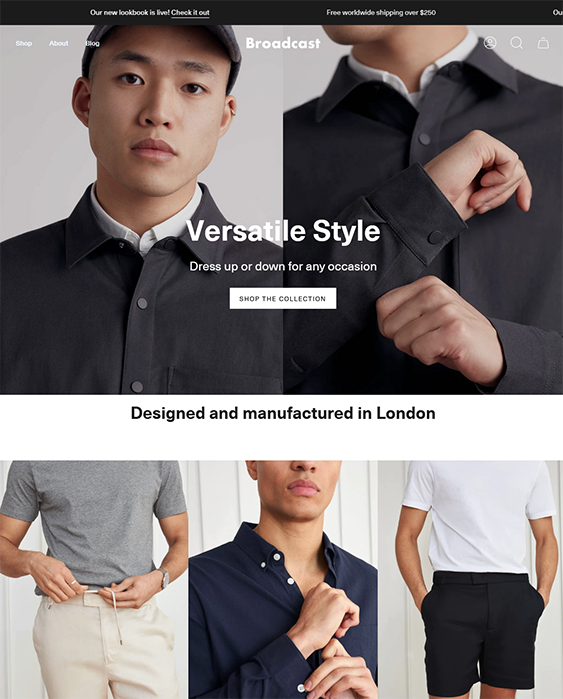 Broadcast — Modern is made especially for selling luxurious, multifunctional, and comfortable men's pants, shorts, tops, and outerwear, and it includes support for multiple languages, one-click add to cart, robust promotional feature, upselling support, pre-built content pages for contact, FAQs, story, and about details, speed and mobile optimization, a drag and drop website builder, pre-order support, a before and after image slider, a back to top button, and more.
Venue — Morning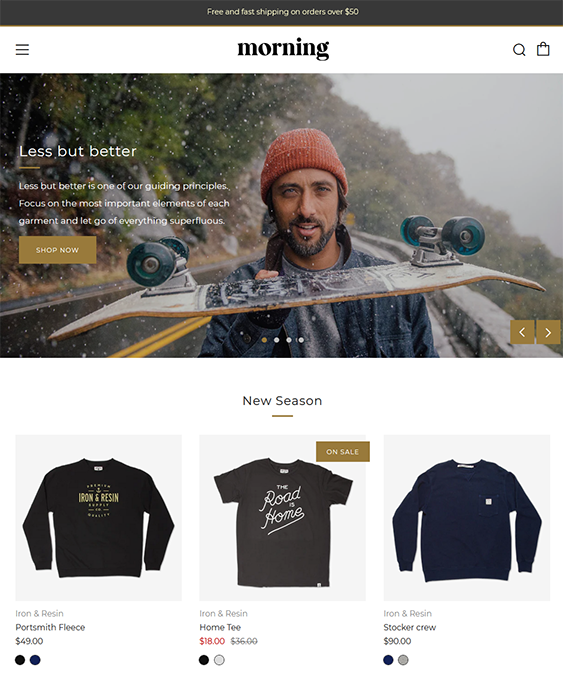 This responsive Shopify theme is perfect for online shops that sell sweatshirts and t-shirts for men, and it comes with an age verification feature, drag and drop sections and blocks for quotes, videos, images, and products, easy customization, trust badges, tiles, popups, banners, a lookbook, and more.
Emerge — Tones
If you want to sell minimalist hats, scarves, bags, shorts, tops, belts, and jackets for men that are made from vegan silk and leather and organic cotton, then this scalable Shopify theme is made for you. Emerge — Tones has large immersive image sections, uncluttered layouts, powerful promotional features for promoting sales, featured products, and discounts across multiple collection pages, flexible, well-designed blocks, back-in-stock alerts, sections for deliver, usage, and shipping info, and more.
Brand Mega Fashion–Style Cloths–Shoes Shopify 2.0 Premium Responsive Theme
This dark menswear Shopify template includes one-click installation, a blog system, SEO-friendly code, a color changer, RTL language support, an Ajax wishlist feature, a page builder, Ajax quick view, product comments, product zoom, lazy loading, a font changer, Ajax product filters, a popup newsletter subscription form, a custom CMS banner, advanced search, a horizontal mega menu, four different product pages, support for off canvas and dropdown carts, and more.
Learn More
Effortless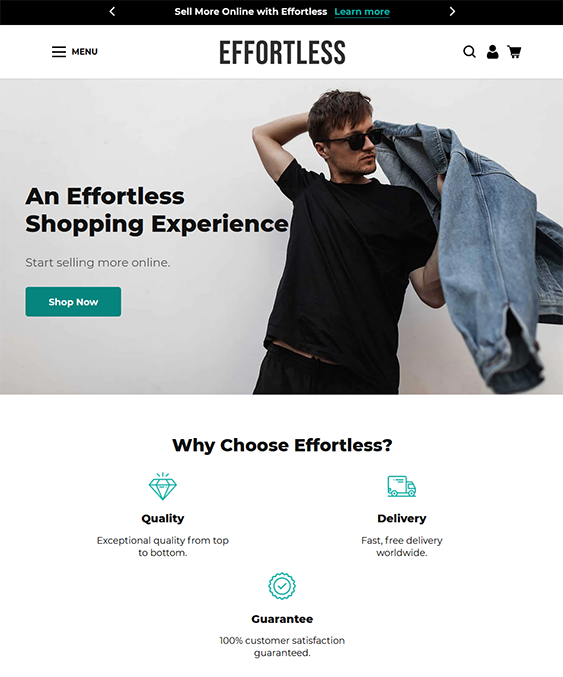 Effortless is ideal for selling men's clothing and accessories online, and this quick-start Shopify theme has a countdown timer, support for dropshipping, a before/after image slider, a scroll to top button, infinite scrolling, free stock photos, a responsive design, and more.