A recent report found the global pet care market is valued at $261 billion, and by 2027, it is projected to grow to an estimated $350 billion. The report also found people in the United States like purchasing pet products online, with convenience, value, and product selection being the top reasons they buy these items from ecommerce websites. Consequently, if you're thinking of building an online shop to sell items for dogs, cats, fish, reptiles, or birds, you might want to get started right now!
However, before building an online store, one of the first decisions you'll need to make is which ecommerce platform you want to use to manage your business. There are a number of ecommerce applications available today, including Wix, Square, BigCommerce, Squarespace, and of course, Shopify. While each of these platforms can be used to build an online pet store, Shopify is one of the most popular applications available in large part because there are so many stylish Shopify themes to choose from, including several that are made especially for pet shops.
Plus, Shopify offers a long list of features, including low stock reports, inventory analysis, demand forecasting, sale item suggestions, detailed inventory reports, inventory tracking, cash-flow management, auto-reconciliation, support for physical and digital gift cards, social media integration, barcode labels, custom discounts, and much more. In addition to these great features, Shopify comes with a free trial, which means you can test it out without spending a cent! If you're still not sure if Shopify is the right platform for your online pet store, these templates should help you visualize what your shop would look like.
Minion — Classic
This mobile first Shopify theme is made for selling high quality food for cats and kittens, and it offers a thumb-friendly design, three types of navigation, 24 sections, EU translations for English, German, French, Italian, and Spanish, an age verifier, a store locator, quick view, dropshipping support, quick setup, support for in-store pickups, a sticky cart, support for high volume stores, a slide-out cart, quick setup, blogs, a customizable contact form, an FAQ page template, promo banners, product and trust badges, animations, support for showcasing recommended and recently viewed products, press coverage, a slideshow, enhanced search, sections for ingredients and nutritional, shipping, and delivery information, image zoom, galleries, product video support, a sticky header, breadcrumbs, and more.
KarDone – Pets Store Shopify Theme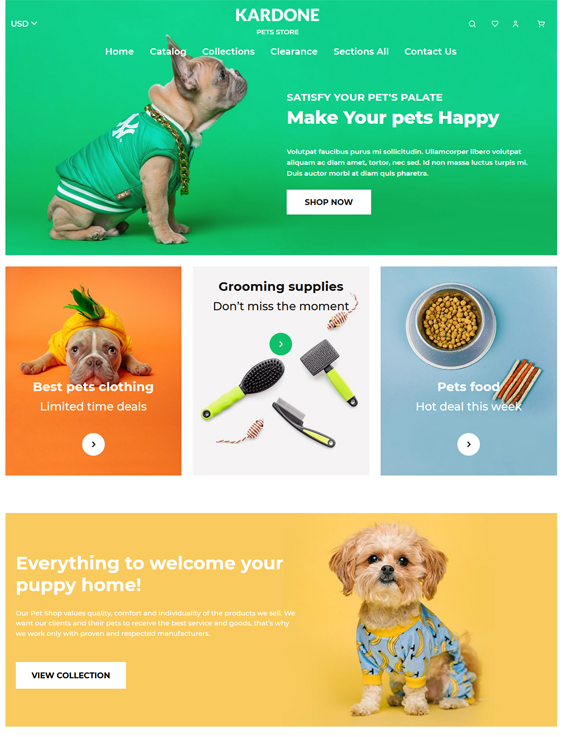 If you need to build an online pet store to sell food, clothing, toys, beds, bowls, and grooming equipment for small animals like dogs, cats, and birds, then you have to see this parallax Shopify template. Kardone features collection banners, a logo list, a slider, custom content, a collection list, blog articles a gallery, text columns with images, a newsletter subscription form, a visual page builder, support of imaegs, videos, and 3D models on product pages, a product comparison feature, dynamic blocks on product pages, call-to-action popups, multi-language support, social options, contact and search forms, an Ajax cart, Google Maps integration, a product carousel, SEO-friendly code, sorting options, Google Fonts, multi-currency support, customizable headers and footers, and more.
Boost — Bloom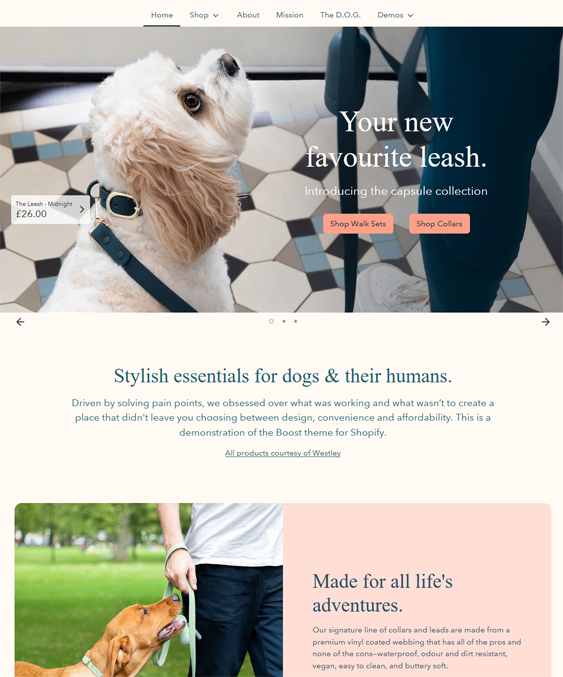 Boost — Bloom is made for ecommerce websites dedicated to selling products for dogs, such as collars, leashes, and poop bag holders, and it includes a clean design, multiple EU translations, color swatches, in-menu promotions, feature-rich sections, SEO and performance optimization, promotion tools, advanced product filters, immersive content, OS 2.0 functionality, support for stores that process a large number of orders in a given time period, a quick guy feature, a contact form, support for product reviews, promo banners, popups, and tiles, image galleries, product options and tabs, image hotspot support, free high resolution stock images, image rollover effects, lookbooks, sections for usage, shipping, and delivery info, product filtering and sorting, a mega menu, enhanced search, free theme updates, an unlimited free trial, and more.
Paws Pet Store Shopify Theme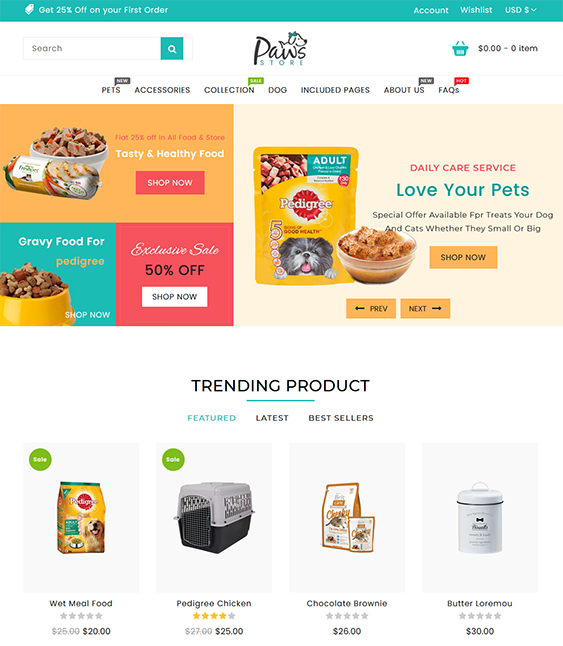 This OS 2.0 is made especially for selling pet food and supplies online, and it features product quick view, a dropdown cart, a customizable homepage, 20+ sections, a page builder, a product wishlist feature, easy documentation, dynamic checkout options, a color editor, a Bootstrap framework, speed and SEO optimization, a retina ready design, a mobile first layout, CSS3 and HTML5 code, unlimited banners, product zoom, parallax scrolling, a brand logo slider, support for multiple languages and currencies, a scroll to top button, a product slider, and more.
Minion — Tiles
This minimalist online pet store Shopify theme offers swatches, multiple navigation options, 20+ sections, flexible design and customization options, drag and drop sections and blocks for images, quotes, videos, and products, dropshipping support, a slide-out cart, product badges, support for highlighting recommended viewed and recommended items, trust badges, photo galleries, video support, tabs, a non-expiring license for one store, and more.
Petsnic – Pets Store Shopify 2.0 Responsive Theme
If you want to create an online shop to sell toys, carriers, beds, and food for cats, kittens, puppies, and dogs, then you have to check out Petsnic. This clean Shopify template has multiple banner sections, Ajax add to cart, a horizontal mega menu, a dropdown shopping cart, Ajax product search, a brand logo section, advanced theme options, a deal of the day section, SVG icons, a contact page with Google Maps integration, a newsletter subscription block, an Ajax product comparison feature, and more.
Minion — Vertical
Minion — Vertical is designed for ecommerce sites that sell merchandise and medication for pets, and it offers flexible, well-designed blocks for quotes, videos, products, and images, support for dropshippers, a slide-out cart, a stock counter, sections for ingredients and usage and nutritional information, breadcrumbs, product options, and more.