According to a recent report, the global beauty and personal care market — which includes makeup and cosmetics — was valued at $511 billion in 2021, and it's expected to reach more than $784 billion by 2025. While this projected growth is expected to be fueled by multiple factors, including the increased willingness of consumers to spend more money on quality and luxury beauty and personal care products, ecommerce sales of makeup and cosmetics are a major driving force.
If you want to sell beauty products online, now is a good time to get started. However, if you want to create your own online store or ecommerce site for your beauty brand, you're probably going to need an application like Shopify to help make your dream a reality. Not only is Shopify an ecommerce platform you can use to build and run your online store, but they also offer free online courses taught by established entrepreneurs that can help you successfully launch a makeup or cosmetics company. Shopify also has a community of merchants, partners, and brands who know its platform extremely well and are ready and able to answer questions you might have about starting your e-commerce company.
In addition to these awesome features, Shopify has a free trial, so you don't need to make a long-term commitment in order to give it a try, and there are lots of beautiful templates available for Shopify, including several themes that are made especially for selling makeup, cosmetics, and beauty products!
Yuva — Elegant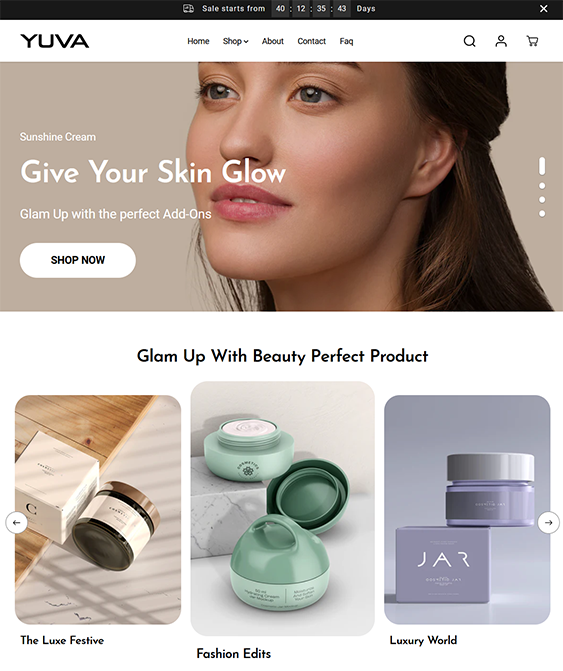 This Shopify theme is made for online stores that sell cruelty-free serums, moisturizers, night creams, sunscreen sprays, and night gels, and it has a countdown sale banner, a slider, multi-level menus, clean typography, EU translations for English, Spanish, French, Italian, and German, color swatches, in-menu promos, quick view, support for flash sales, visual storytelling, pre-order support, a quick buy feature, support for in-store pickups, cart notes, support for high volume stores, an FAQ page template, product badges, blogs, image hotspot support, product tabs, a back-to-top button, image rollover effects, animations, breadcrumbs, infinite scrolling, a sticky header, a mega menu, enhanced search, collection page navigation, and more.
Afenity – Beauty & Cosmetics Responsive Shopify Theme
If you need to create an ecommerce website dedicated to selling cosmetics, skincare, and makeup, you have to see Afenity. This retina ready Shopify template comes with five homepage options, SEO optimization, Oberlo compatibility, social sharing, advanced variant swatches, popup add to cart, dynamic checkout support, sub-collection and gallery pages, Ajax products, upselling support, Ajax search, order notifications, a lookbook, HTML5 and CSS3 code, a product carousel, a color picker, one-click import, Font Awesome icons, a contact form, social media integration, support for customer reviews, a built-in Ajax toolbar, sale labels, multiple sticky header styles, Ajax add to cart, unlimited colors, advanced layered navigation, a dropdown shopping cart, a built-in slider, unlimited Google Fonts, a newsletter subscription form, strong filters, a popup login form, automatic price changes, a built-in flexible mega menu, smart product quick view, and more.
Palo Alto — Stanford
If you want to create an online store to sell clean, vegan, cruelty-free, and sustainable cosmetics like tinted lip balms, brow pencils, highlighter, cream blush, tinted sunscreens, and brow gels, Palo — Stanford is perfect for you. This OS 2.0 Shopify theme features sections for collections, about information, FAQs, contact details, and products, mobile and speed optimization, out-of-stock notifications, multiple popups, multiple EU translations, swatches, in-menu promotions, in-store pickup support, a slide-out cart, editorial content, support for stores that process a large number of transactions in a given period, a sticky cart, back-in-stock alerts, press coverage, an FAQ page template, promotional banners, galleries, product video support, a scroll-to-top button, support for showcasing recommended and recently viewed products, a sticky header, and more.
Zest — Cosmo
Zest — Cosmo is made especially for natural, organic, and plant-based skincare products, and it includes conversion and mobile optimization, a stock counter, a countdown timer, a flexible mega menu, smart variant view, quick add to cart, advanced filtering and search, a drag and drop website builder, support for brand storytelling, promotional popups and banners, trust and product badges, image hotspot support, sections for shipping, usage, and delivery information, free theme updates, a clean design, and more.
Gentive – Beauty And Cosmetics Responsive Shopify Theme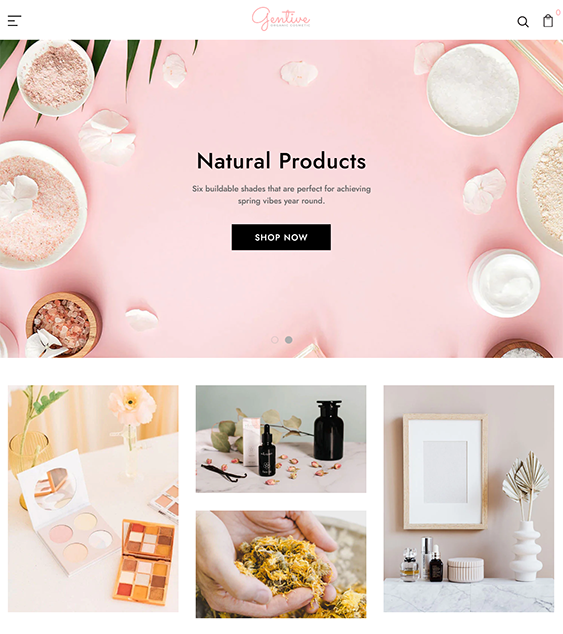 This responsive Shopify theme is made for online cosmetics and beauty stores, and it has a built-in mega menu, CSS3 and HTML5 code, icons, an Ajax toolbar, multiple sticky headers, contact, login, and newsletter subscription forms, layered navigation, SEO-friendly code, Oberlo support, a gallery page, and more.
Spark — Clean
Spark — Clean is made for selling modern makeup, cosmetics, and beauty products, and it features support for direct-to-consumer (DTC) brands, first-time merchants, and dropshippers. This minimal mobile-first Shopify theme also includes streamlined navigation, currency and language selectors, drag and drop blocks and sections for creating custom pages, product badges, promo tiles, trust badges, free stock photos, product tabs and options, sections for ingredients, shipping, and delivery info, video support, free theme updates, a non-expiring license for one store, and more.