If you're searching for an easy way to add recipes to your store's website, then you have to see these Shopify apps. These Shopify plugins are designed to help you display recipes on your online store, and they come with useful features like responsive designs, social sharing, easy customization, multiple templates, support for nutrition information, images, and videos, rating systems, SEO optimization, and more.
Sell with Recipes ‑CommerceOwl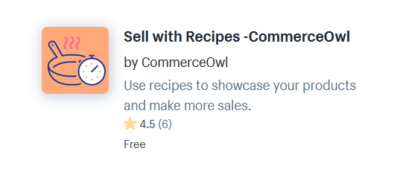 This Shopify app provides an easy way for you to showcase recipes on your store's website, and it includes support for product links in ingredients and instructions, Pinterest Rich Pins, Google Assistant, and social sharing. Sell with Recipes ‑CommerceOwl also has a rating system, searchable recipes, SEO optimization, a recipe gallery, and customizable recipe filters.
Recipe Kit
This Shopify app offers an easy way for you to add SEO optimized recipe cards to your online store, and it comes with three different recipe card designs for you to choose from. Plus, Recipe Kit allows you to embed YouTube videos in your recipes, it includes support for social sharing, and it gives you the ability to bulk import recipes from a CSV file. This Shopify plugin also comes with a translation feature, it lets you include detailed nutrition information in your recipes, and you can easily customize the recipe card's layout, borders, and colors.
BentoSMB Recipes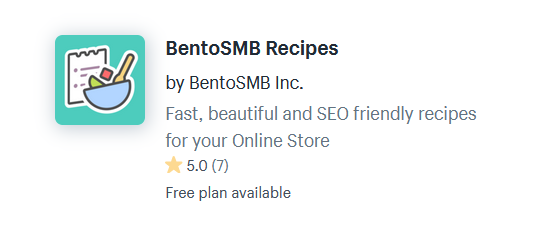 BentoSMB Recipes makes it easy for you to display recipes on your ecommerce website, and it gives you the ability to include nutrition information, instructions, images, summaries, and even links to your products. This recipe Shopify app also includes support for Pinterest Rich Pins, it has a responsive design, making it compatible with mobile devices, it's SEO-friendly, and comes with built-in social sharing.