Updated July 8th 2015
Are you looking to create a business directory website similar to Yell.com, or White Pages using WordPress?  Today I'm going through the absolute best Business Directory themes for WordPress.  I'll skip all the regular WordPress themes which could, with some modification, be used for Business Directories and jump straight to the absolute finest which have been developed from the ground up for this particular function and include unmissable features which will get your Business Directory off to a great start.
Responsive Business Directory Theme by PremiumPress [Visit »]
First up, PremiumPress have created a very in-depth business directory themes for WordPress, it is fully responsive so works on all devices, such as laptop, desktop, mobile phone and tablets.  It is search engine optimised out of the box, so you shouldn't have to tinker about too much to get decent search engine rankings.
If you're creating a local business directory these next features are a must; Google Maps and Business locations.  PremiumPress have built in distance calculators, zip/ post code searches, radius searches and on/off Google Map listing enhancements.
This means that visitors can choose their location, and then the closest listings will automatically be displayed to them.  They can also search for listings via zip codes / post costs and a radius circle will be plotted showing all the nearby listings.
If you're a local contractor you're surely going to only accept work within X miles of your location, so there would be no point in showing visitors a plumber from Detroit, when the job would be in Miami.
You can also make this a premium option for your featured businesses, it's totally up to you though, I'd just switch it on for everyone, but that's just me.
Packages and user memberships have also been built into this theme.  You can set up packages for the businesses who want to be featured on your site, there is no limit to the number of packages you can make.  You can have free packages, one-off payment packages and recurring packages too.  You can choose which packages have specific features as well, such as the ability to upload images (and how many / how much space), enhanced HTML descriptions, banners at the top of categories and more.
A membership system which gives you the ability to restrict access to specific pages, limit the types of content to different membership types and even charge a single or recurring payment for multiple listing submissions has been included as well.
Your sellers have complete control over their listings, ability to adjust payments and account details within a specially designs user admin area too.
A profile page for sellers is also included which allows them to add/change their contact details, add a profile picture, contact information, website information and more.  Buyers have the ability to rate the sellers with a star rating system and feedback area.
Private messaging has been built in to allow sellers to talk to buyers.
You also will have access to 30 child themes, these are essentially new skins you can put over the top of the theme to give it a completely different look, or to get it closer to the look you want before you make some tweaks yourself.
PremiumPress have also built in support for 20 payment providers.
Business Directory Theme from PremiumPress costs $79 (as of July 2015), but they also throw in a 30 day money back guarantee, so if you decide you hate it, just get your money back and all you will have lost is some time.  It's very rare for a theme provider to give you a money back period due to worries with piracy, so this is a very nice bonus and shows they have a lot of faith in the quality of their product.
*Update July 2015:* Version 8.2 was released on May 24th 2015, so development on this theme continues.
Directory by Templatic [Visit »]

Directory by Templatic is a popular option.  It allows your visitors to submit their business by using the built in submission pages.  The submitted content can then be moderated by an admin in the backend.
It supports custom fields, they say it's the glue which binds everything — once you see it, you'll understand why!   A lot of businesses will require custom fields to be added so they can feature specific information about themselves; whether it be specifics about themselves or the services they provide.  This feature really enables the business owner to drill down and provide everything they'd want to within their listing on your website.
Event Management is also included.  Lets say you have a restaurant which is having a special event on a specific night, or maybe you run a rescue and have adoption events at a pet store every weekend.  No problem, you can feature it in your listing as it supports both recurring events and one time events.
Customization is a big feature of Directory, everything from the big map on the homepage (just swap it for any other widget type), category listings (switch from grid, list or map views) to the actual details page for each business can be customized.
Directory also includes the ability to bulk upload content and then allow businesses to claim their business on the site.  It also features a customisable multi-option review and rating system too.
On the monetization side of things, you can charge for submissions and create packages for businesses.  Price packages can be drilled down very specifically, so if you want to charge businesses in one niche a rate, and then businesses in another niche a certain rate and give them different features / abilities, then no problem, this is all built in.
Using the event system you can sell event tickets using a WooCommerce plugin.  In fact, WooCommerce integration means you can sell just about anything!
You can also sell ad space on your site.  You can set multiple spaces for banners, drill down by category or even assign them to each post manually.
Packages can be sold on a one-time or recurring basis, you can choose which packages have which custom fields and other features (placement, pictures, featured) etc.
A coupon module has been included too, this means you can create automated discounts for packages which will switch on/off at specified times.
Directory directly supports PayPal and PreBank, but they have plugins for many other gateways too–such as WorldPay, PSIGate, 2Checkout, Stripe and more.
As of July 2015 Directory costs $99, for this price you get a lifetime usage license and guaranteed updates for a year.  There are also higher price plans which will allow you to use Directory on multiple domains, or give you access to all of Templatics templates.
*Update July 2015:* A new version (2.0.6) was released 16th June 2015 which includes huge amounts of speed optimization, most noticably when you have hundreds or thousands of businesses listed.  REST API compatibility has also been added, advanced support for recurring events.
Buzzler Business Directory Theme by SiteMile [Visit »]
Buzzler by Sitemile is another great option for your building your Business Directory.  As with the other themes, it's fully responsive so works on all devices.  Again, it allows you to charge for different types of listings, sell membership packages, or provide free business listings.
It includes spots for banner ads, easy color customisation using the built in color picker tool.  It uses the GNU gettext WordPress localization framework, so it can be easily localized to pretty much any language.
Customization is a big feature of Buzzler, there are 5 built-in layouts with varying amounts of columns, you can drag and drop widgets, sliders or jQuery scripts.
Buzzler also has a 'claim listing' feature, so if a business is already featured then the business owner can get in touch and claim the business as theirs, and thus take control of that page.
Social connections are very important, Buzzler allows users to sign in using Facebook, Twitter, Yahoo and WordPress login options.
Custom fields are a big feature, as well as local listings.  Google Maps is embedded, along with local search facilities.
Users can also upload documents such as ZIP, DOC and PDF into their listings.   I can see this of being particular use to restaurants, who often have their menu in a PDF file on their website.
Buzzler also supports a number of payment gateways out of the box; including PayPal, MoneyBookers and Payza.
Buzzler definitely deserves a place in my list, it's a feature rich and very well thought out Business Directory Theme.  A single user license for Buzzler is $69.99 as of July 2015, and if you use the promo code REDOOCE_WARRIOR you'll get 20% off.
Geocraft City Business Directory by Ink Themes [Visit »]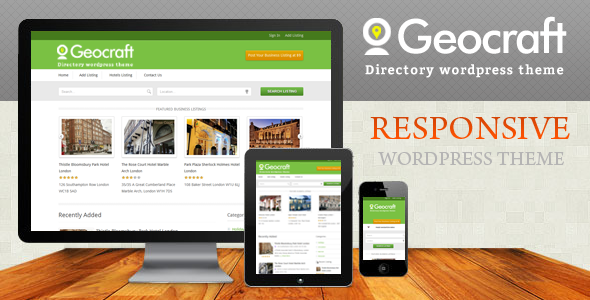 Added July 2015:  Geocraft by InkThemes has a very heavy emphasis on easily creating and monetizing a Business directory website, within minutes in fact.  Do remember that installing a theme is the easy bit, it's getting visitors!
Having said that, Geocraft seems to have that nailed and is heavily optimised for search engines. Some key features are 'one-click' install, as seen when you install WordPress using Softaculous or Installatron. Paid and free listing tiers, Google Map support, user submission system with anti-spam measures.
Recurring payments are possible for paid tier users, so you could charge $x per month for a business to appear on your website. Even cooler than that is there is a position bidding system. If your site becomes popular then businesses will have to bid to be listed in specific positions in your site.
Multiple currencies and payment gateways are supported. On top of this there is a user review system so users of your site can rate and review businesses listed.
Here's a video which talks about some of Geocraft's features:

Geocraft is available for $97 from InkThemes.
Have I missed out any great business directory themes?  Let me know and I'll add them.