If you want to build a micro job marketplace like Fiverr.com, then you have to check out these awesome WordPress themes for micro job websites.  Micro job marketplaces are designed to help connect people with professionals who can complete specific projects, tasks, gigs, and chores.
I've found some cool themes to help you create your very own micro job website, and they come with fantastic features and excellent customer reviews.
Taskerr by AppThemes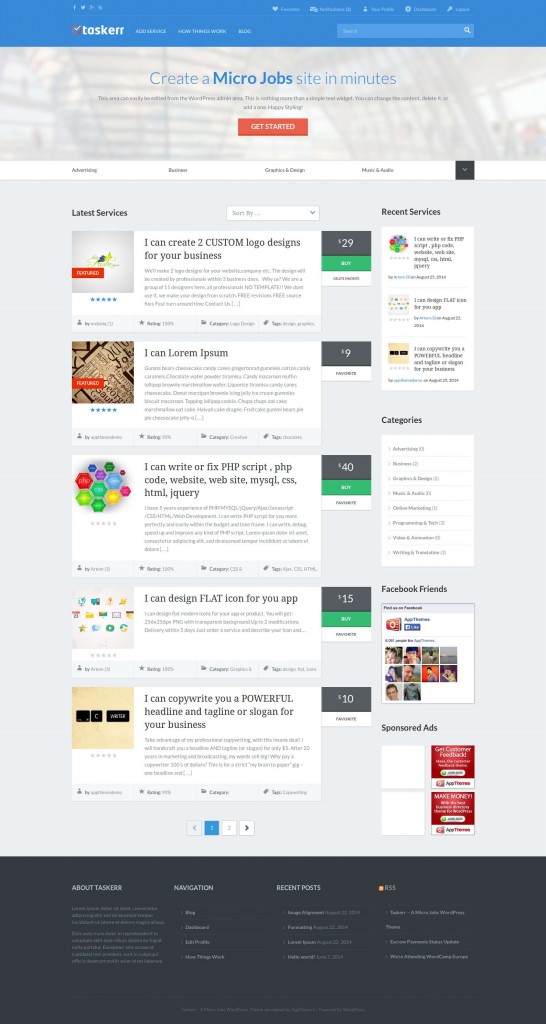 Taskerr by AppThemes is a fully responsive micro job WordPress theme, so it's compatible with mobile devices like smartphones and tablets.  Plus,  Taskerr comes with support for listing and transaction fees, allowing to easily monetize your job marketplace.
This micro job WordPress also includes 5 color schemes for you to choose from, child theme support, a detailed and intuitive dashboard, custom post types and taxonomies, multi-currency support, PayPal IPN compatibility, and more.
Taskerr allows professionals to select the title and description of the service they offer, as well its category and subcategory.  They can also specify their delivery time frames, prices, and tags, and even upload images and videos.  People who have tasks they need completed can easily search the marketplace for the right person for the job, and they can even rate, review, and comment on gigs.
Taskerr includes a detailed dashboard that enables users to view services, tasks, purchases, reviews, contact info, statistics, and more.
Taskerr costs $99, and this price includes 12 months of support and updates, making it a great option for people who want to build a micro job website.
(opens in a new tab)
TaskerDev by SiteMile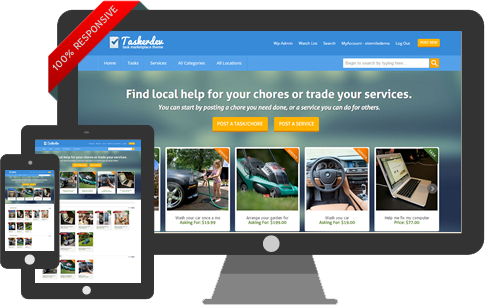 TaskerDev by SiteMile comes with two options for you to choose from:
1. One version is similar to Fiverr, and it enables professionals to post the gigs or jobs they are able to complete.  For example, an artist can post a listing offering to draw a picture of a person's cat for a fee of $5, and people who want an illustration of their feline friend can purchase this service.
2. The other version of TaskerDev is similar to PeoplePerHour, and it allows individuals to post the jobs, gigs, or chores they need performed, and professionals can contact the posters and bid on the services.
TaskerDev comes with lots of monetization options, including premium listings, paid featured listings, and payment packages, as well as fees for memberships, private bids, and transactions.  Plus, TaskerDev offers easy BuddyPress integration, so you can turn your micro job marketplace into a full-fledged online community.
This micro job WordPress theme also comes with an escrow feature, providing your buyers and sellers with the knowledge that no money will change hands until both parties are satisfied with the transaction.  TaskerDev also comes with a rating system, public feedback, and private messaging with support for file attachments.  Plus, this WordPress theme offers Facebook and Twitter integration and compatibility with lots of different payment gateways, including PayPal, PayPal Adaptive, Payza, Moneybookers/Skrill, iDeal Mollie, Sisow, Payfast, Quickpay, and Authorize.net.  You can also request custom integration of another payment gateway for an additional fee.
TaskerDev is updated nearly every month to ensure it's always compatibility with the latest version of WordPress, and it costs just $79.
Overall, TaskerDev offers a reasonable price, loads of useful features, excellent customer feedback, and regular updates, making it a great option if  you're looking for a micro job WordPress theme.
(opens in a new tab)
Pricerr by SiteMile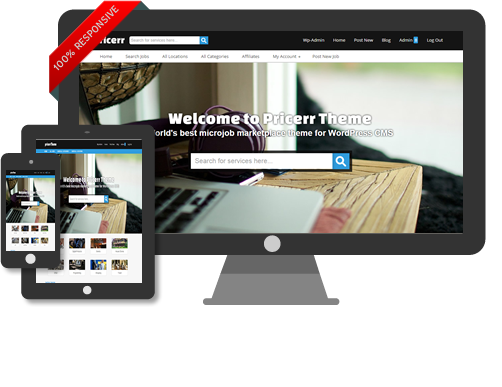 Pricerr by SiteMile is another WordPress theme you can use to create a micro job marketplace, and it comes with many different monetization options, including fees for transactions and featured and paid listings.  Plus, Pricerr also allows you to escrow payments via PayPal Adaptive Payments, giving your buyers and sellers additional peace of mind.
Pricerr starts at just $69 for a single site, and it comes with unlimited support for one year.  However, this license only includes a few plugins, no affiliate program, and PayPal the sole payment gateway.  However, for $199, you get access to all of Pricerr's plugins, support for Payza, Moneybookers, Authorize.net, Google Checkout, and PayPal, and a built-in affiliate system.
If you want to use another payment provider for your micro marketplace, SiteMile will integrate any gateway into your website for an additional fee.
Pricerr is an awesome WordPress theme with lots of useful features, making it a great option for creating and maintaining a micro job marketplace like Fiverr.
Micro Jobs Theme by PremiumPress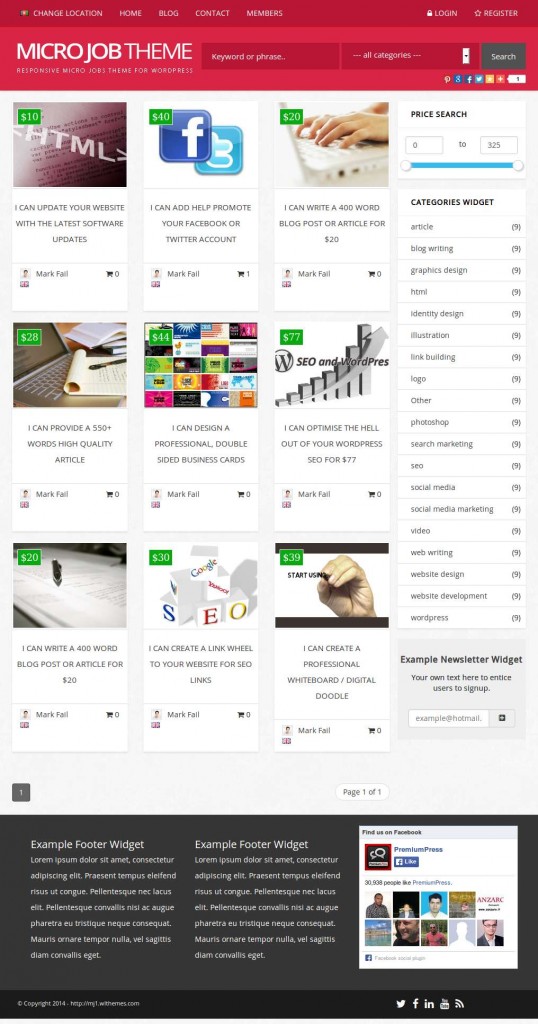 Micro Jobs Theme by PremiumPress is another WordPress theme to consider if you want to build a micro job website.
This theme comes with support for more than 30 child themes, that means 30 more choices built-in, as well as paid membership package options to help you generate income from your marketplace.  Plus, this micro job WordPress theme has support for free and premium job listings, and it even includes a featured listing option to help you make additional money from your website.
Micro Jobs Theme also offers Google Maps integration, an image upload feature, and a user-friendly interface professionals can use to update their listings without help from you or your staff.
Plus, this micro job WordPress theme has a built-in workflow system people can use to communicate with each other and send attachments to one another.
Micro Jobs Theme also comes with a feedback and profile rating system which buyers can use to tell other people how satisfied they were with the work and professionalism of sellers.
This WordPress theme also includes an advanced search tool, support for paid add-ons, SEO-friendly code, and a private messaging system, as well as built-in advertising space to help you generate extra income from your marketplace.  Plus, Micro Jobs Theme comes with a newsletter system to help you keep buyers and sellers updated about the latest services available via your website, and it offers support for 20 different payment gateways.
Micro Jobs Theme costs $79, and it even comes with a 30-day money back guarantee, making it a WordPress theme definitely worth checking out.
(opens in a new tab)
MicrojobEngine
Micro Job Engine is a beautiful fully responsive platform for WordPress which provides many features to create a site like Fiverr.
It includes smart search, which enables your visitor to find whatever job or service they want, fast.
All jobs are reviewable and rateable — this is super important in decision making for any buyer.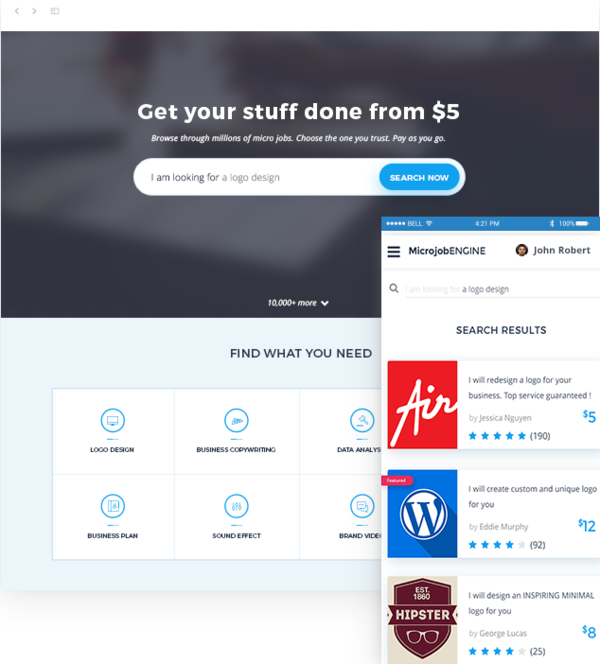 You can drill down into minute detail about all job offerings, include sample pictures, sales figures, ratings and reviews. Every s
eller has their own profile page which is fully customisable too.
Micro Job Engine allows you to create addons for any job too. For example, "I will draw your cat for $5", for an extra $10 I will draw it in full color and include high resolution vector images.
The theme includes full order tracking, so the buyer and seller can communicate throughout the transaction.
Everything is controllable through the dashboard; order handling, jobs, revenue, withdrawals, analytics, messages and live chat.
Payment support includes Stripe, PayPal, 2CheckOut, Cards, Cash and Bitcoin.
Micro Job Engine is a seriously feature rich Fiverr style theme, click the demo button to see it in action.

Download Now » Live Demo »
Links open in a new tab.
Have you found another good Fiverr style micro job theme for WordPress?  Let me know and I'll feature it here.